Both Summit Corporation Ltd (SCL) and Summit Power Ltd (SPL) maintain long term AAA credit ratings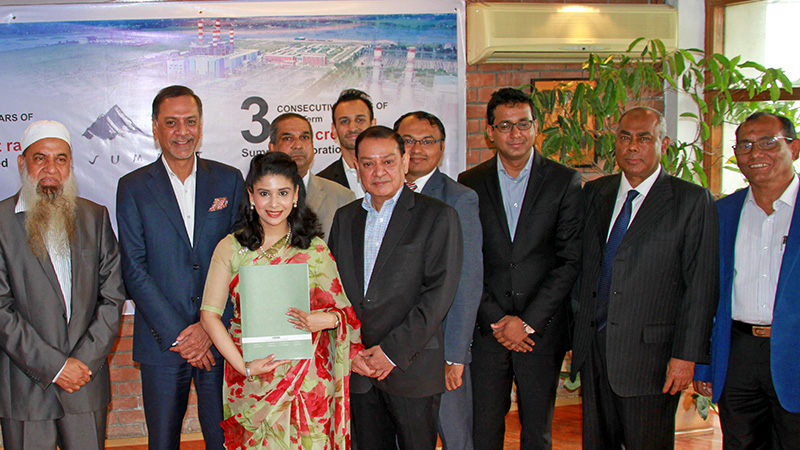 Photo caption: On behalf of Summit Corporation Limited (SCL) and Summit Power Limited (SPL) the Vice –Chairman Latif Khan and Director Azeeza Khan received the AAA credit rating reports from the President & CEO of CRISL Muzaffer Ahmed, FCMA. Vice-Chairman Jafer Ummeed Khan, Director Salman Khan, Director Azharul Haque FCA, Managing Director of SPL Lt Gen Abdul Wadud (Rtd), Managing Director of Summit Gazipur(I & II) Mozammel Hossain, SCL Executive Director Syed A K Rahat Jaman Sohel and SPL Financial Controller &Company Secretary Swapon Kumar Pal, ACA were also present.
• Credit rating agency CRISL forecasts "Stable" outlook for SCL and SPL.
• Summit Corporation Ltd receives long term AAA credit rating for third consecutive year.
• Summit Power Ltd, a publicly listed company in DSE and CSE, receives long term AAA rating again.
Both Summit Corporation Limited (SCL) - the holding company of all power concerns of Summit Group and Summit Power Limited (SPL) - the publicly listed power generation company, have received long term AAA (pronounced as triple A) and short term 'ST-1' credit rating by Credit Rating Information & Services Limited (CRISL).
CRISL stated that the long term AAA credit rating of SCL and SPL indicates the highest safety and have highest credit quality of these companies. While, short term rating ST-1 indicates highest certainty of timely repayment. These are highest possible ratings.
Media Articles
English Newspaper
The Daily Star, May 25, 2018
Daily Sun, May 25, 2018
The Financial Express, May 25, 2018
Energy & Power, May 25, 2018

Bengali Newspaper
Kalerkantho, May 25, 2018
Energy Bangla, May 25, 2018