SUSTAINABILITY
CORPORATE SOCIAL RESPONSIBILITY
Corporate Social Responsibility at Summit Power International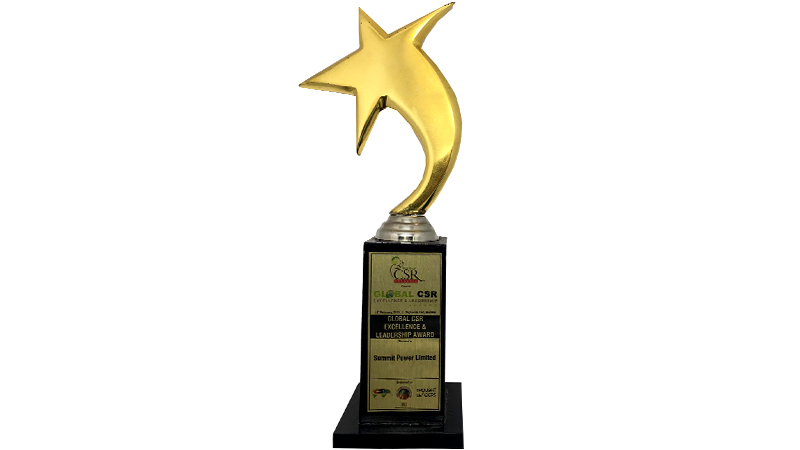 Global CSR Excellence & Leadership Award
SPL won the prestigious Global CSR Excellence & Leadership Award presented by the World CSR Congress in Mumbai, India
Vision of Chairman of Summit Group on CSR

"

Our strategy of powering nations and transforming lives is not only confined to energy we produce. With the growth of our business over the last 25 years, we must also focus our attention to helping the wider ecosystem. As a company providing power resource to developing countries, we are determined to make a significant difference at the grass roots level – not only to the wider economy, but to the living standards of the communities we operate in.

It is not adequate to want to help – we must take action. That is why Summit Power International alongside Summit Group has committed to helping a number of initiatives which will make a long-term difference to people's lives.

We also recognize the importance of creating sustainability directly around the plants that we operate in. This goes to the heart of our CSR initiatives – helping to provide the fundamentals to foster sustainable communities. Every year Summit actively contributes to the social and economic development of the communities in which it operates. Summit is involved with numerous community welfare development works that includes education, health and social service, sport and arts and culture which directly add value to the community."

Muhammed Aziz Khan
Chairman of Summit Power International and Summit Group
---
At Summit Power, we believe in making a positive impact on the communities and cities that we operate in. Our businesses support the economic development of emerging nations and enhance the quality of life for local communities.
As part of our Corporate Social Responsibility, we have long-standing partnerships with several non-governmental organisations (NGOs) to support projects that improve access to education and healthcare for underprivileged individuals.
Summit Power International also supports social programs and humanitarian initiatives that are conducted by Summit Group.
Our community involvement focuses on the following key areas:
Education – empowering people of all ages with knowledge and skills
Health and social service – investing in healthcare and promoting well-being
Sports – bringing communities together and encouraging healthy living
Arts and culture – supporting cultural project to raise awareness
We continue to assess new opportunities to further help communities prosper. An example of our corporate philanthropy to date is provided below.
Education
Nanyang Technological University, Singapore
Summit Asia Pacific pledged a gift to Nanyang Technological University, Singapore for four years (2017 – 2020) in support of Centre of Excellence - International Trading (CEIT) Fund.
Alo'r Pathshala
Alo'r Pathshala of Prothom Alo Trust has a mandate to establish and manage schools in remote areas of Bangladesh where there is no government funded education. Presently there are five schools with over seven hundred students.
Muhammed Aziz Khan was the former Chairman of the Prothom Alo Trust Board for two consecutive terms (2012-2016) and now serves on the Board of Trustees.
Proyash
Established in 2006, Proyash Institute of Special Education works to raise awareness of disability and autism in Bangladesh through research and education of special needs students. Summit helps Proyash to fight autism and supports its services and facilities which are open for all children with special needs. The institute also serves as training and research centre for the development of special education teachers and therapists.
Bondhushava
The organisation "Bondhushava" aims to create human values among young people. Bondhushava is a platform for integration, helping to, building equip young people with the skills needed for to promote humanity. The organisation is involved in multiple philanthropic public welfare activities and strives to enhance art and culture in Bangladesh.
SEID Trust
Since 2010, Summit has assisted SEID Trust to improve the condition of poor children with intellectual and multiple disabilities and autism. All too often, the children come from the most financially disadvantaged segment of society. Over three thousand underprivileged children to date have received education and support including pre-primary and special education, education materials, physiotherapy, speech therapy, counselling, medical services, sports, cultural, food and transport facilities. In addition, Summit also supports two SEID Trust Community Therapy Centre in Shyamoli and Kamrangir Char.
Health and Social Service
Siraj-Khaleda Memorial Trust
Siraj-Khaleda Memorial Trust is fully funded by Summit Group. The Trust sponsored the construction, equipment and furnishing of Siraj-Khaleda Cantonment Board General Hospital, operating since 2012. Now, the hospital provides treatment to over twenty thousand patients each year. At least 50% of the out-patients and 25% of the in-patients of the hospital come from the poorest segment of the society living in and around Dhaka Cantonment area. Patients receive medical treatment either free or at a subsidized rate. The administrative function and operation of the Siraj-Khaleda Cantonment Board General Hospital is managed by the Dhaka Cantonment Board. In addition, the Siraj-Khaleda Memorial Trust has funded the education of an average of twenty students every year since its inception in 1998.
Prothom Alo Trust
The Prothom Alo Trust raises funds for the acid violence and rehabilitation of women acid survivors and for running anti-drug awareness campaigns. It also raises funds on a 'needs' basis during natural disasters to help the victims with food, drinking water, oral saline, clothes, medicines and other essential items. Since 2007 it has funded disadvantaged meritorious students through Adamya Mehdabi scholarship program.
Bangladesh Mahila Parishad (BMP)
BMP is a women's human rights organisation to promote the status of women in Bangladesh. BMP is active both nationally and internationally since 1970 in order to empower women, especially who are living in a disadvantageous position. Summit has pledged its support to this women's right organisation.
Burn Unit, Dhaka Medical College and Hospital
Summit supports Burn Unit, Dhaka Medical College and Hospital with facility development. The burn victims are usually from the poorest sections of the society who cannot afford quality gas stoves, work in high-risk factory environment and cannot afford expensive burn treatment.
At Power Plant Level
Summit works at local level including improvement of local schools, roads, mosques, drainage systems and other activities for the welfare of the communities where it operates.
Sports
Summit Open Golf Tournament
Since 1996 Summit has been sponsoring and organising Summit Open Golf Tournament at Kurmitola Golf Club, Dhaka. Golf is an emerging sport in Bangladesh and the tournament is used to promote the game, providing an opportunity for people to get involved in new hobbies and garner new talents.
Arts and Culture
Shurer Dhara
Summit actively contributes to Shurer Dhara Music for Development, an organisation founded in 1992 by Rezwana Chowdhury Bannya, a distinguished alumna of Viswa-Bharati (the renowned university of Nobel Laureate Rabindranath Tagore), a Professor of Music at the University of Dhaka and an accomplished exponent of Rabindra Sangeet. Their mission is to cultivate and promote music and culture across Bangladesh and has over two thousand students on average each year.
CORPORATE SOCIAL RESPONSIBILITY