Media
29 December 2022
Back
The first coffee-table book on Hamiduzzaman Sculpture Park unveiled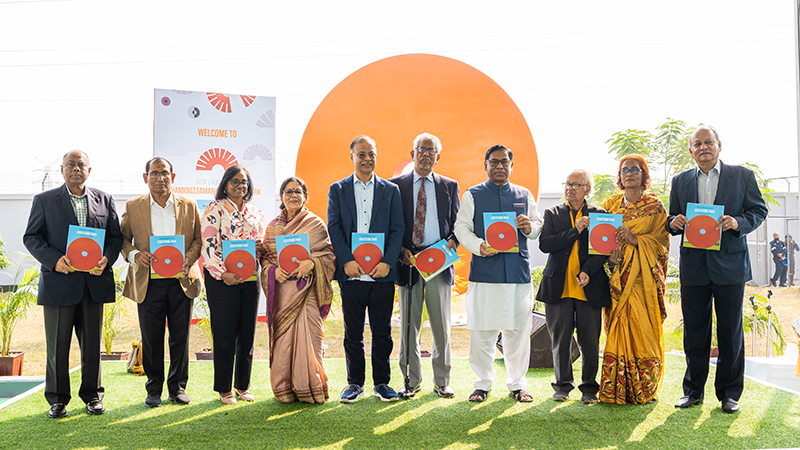 Photo caption: Nasrul Hamid MP, Honourable State Minister, MPEMR graced the unveiling ceremony of the 'Hamiduzzaman Sculpture Park' book located at Summit Gazipur 464 MW Power Plant as the Chief Guest along with Muhammed Aziz Khan, Chairman of Summit Group, sculptor Prof Hamiduzzaman Khan and other distinguished guests.
(Gazipur) 29th December, 2022: Four years ago the first sculpture park of Bangladesh was established in Summit Gazipur 464 MW Power Plant and a compilation of the artwork was developed in the form of a coffee-table book to showcase to the international art readership. The book explains the sculptor's thoughts, behind-the-stories of how the sculptures came to be and looking back at Prof Hamiduzzaman Khan's journey.
Nasrul Hamid MP, Honourable State Minister, MPEMR applauded upon inspection of the sculpture park, "In the past nine years, I have visited numerous power plants but I have not been so moved by the sheer joy of creativity. Ekushey Padak winning Hamiduzzaman Sir (and) Aziz Khan has transformed the power plant into something else here." He also commented, "This is the best power project I have seen in the world."
Muhammed Aziz Khan, Chairman of Summit Group said, "Seventy-percent of these beautiful sculptures are built from the leftover scraps of the Summit Gazipur (464 MW) Power Plant. The positive impact of this transformed landscape is clearly visible among the young engineers working here. I am grateful to Prof Hamiduzzaman - my mentor and the Honorable State Minister for his continued encouragement."
Photo caption: A 15-years old blind student of Shurer Dhara (Music for Development), Sayma Sarmin Ema's song "Boro Shaad Jaage Ekbar Tomay Dekhi '' brought tears of appreciation to the audience. To listen to her song: https://youtu.be/5Z9pUXqfIcc
This book launch ceremony was celebrated with a cultural programme in presence of well accomplished artists and senior officials including: Sheela Pillai, Consul & Head of Mission from Consulate of the Republic of Singapore, Artist Mainul Abedin, Vice-Chairmen of Summit Group - Latif Khan, Farid Khan, Jafer Ummeed Khan, Directors - Anjuman Aziz Khan, Ayesha Aziz Khan, Faisal Khan, Azeeza Aziz Khan ACCA, Managing Director of Summit Power Ltd Lt Gen (Retd) Engr Abdul Wadud, Managing Director of Summit Gazipur II Power and Summit Ace Alliance Power Eng Md Mozammel Hossain among others distinguished guests.
About the Book: This book showcases the story behind the creation of the Hamiduzzaman Sculpture Park. The book includes one of Bangladesh's leading art critics and curators, Mustafa Zaman's key piece "The Art of Placemaking". Readers will learn about the inspiration and thoughts behind each sculpture. The book is available free-of-charge at the following website: Coffee -Table Book Hamiduzzaman Sculpture Park
Download Bengali Version