Media
07 October 2019
Back
JERA invests USD 330 million to buy 22% stake in Summit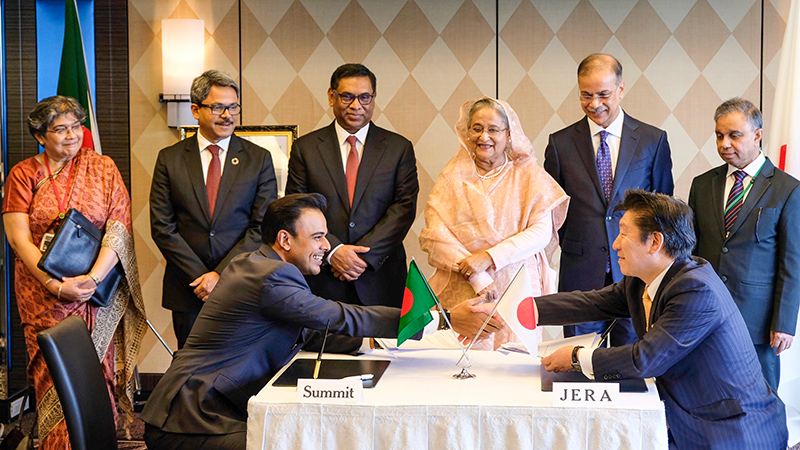 Photo caption: Following the MoU signing between Director of Summit Group Faisal Khan (left) and CEO of JERA Asia Toshiro Kudama (right) in the gracious presence of the Honourable Prime Minister Sheikh Hasina during her state visit to Japan in May 2019, JERA finalizes the investment.
TOKYO – 7th October 2019: In a move to establish major energy infrastructure, including power generation projects in Bangladesh, Japan's largest energy company JERA Co., Inc. ("JERA"), has acquired a 22% stake in Summit Power International Limited ("Summit") for USD 330 million. Summit is the largest independent power producer (IPP) in fast growing Bangladesh. The investment has been finalized within only four months of signing the memorandum of understanding (MoU) between JERA and Summit in Tokyo, in presence of the Honourable Prime Minister Sheikh Hasina, Honorable State Minister, Ministry of Power, Energy and Mineral Resources, Nasrul Hamid MP, Honorable State Minister, Ministry of Foreign Affairs, Shahriar Alam MP, Honorable Principal Coordinator of SDG and Chairman of MIDI (Moheshkhali-Matarbari Integrated Infrastructure Development Initiative) Md. Abul Kalam Azad, HE Ambassador of Bangladesh to Japan Rabab Fatima and Chairman of the Summit Group Muhammed Aziz Khan.
As a shareholder of Summit, JERA will strive to increase the corporate value of Summit through the efficient construction and operation of its power generation facilities and contribute to the sustainable economic growth of Bangladesh. Summit's Founder Chairman Muhammed Aziz Khan expressed his satisfaction with the investment stating, "Much needed technology and capital for Bangladesh's fast growing power and energy market will be available from JERA with their vast knowledge and balance sheet. JERA by far could be our best partner. This partnership will support our investment program of USD 3 billion by 2022 in Bangladesh."
Toshiro Kudama, CEO of JERA Asia said, "JERA is fully dedicated and committed to the future development and economic growth of Bangladesh through this precious partnership with Summit. We believe that Summit has unrivaled presence and capacity in the country. Thus, we will humbly and steadily provide our support to them in the future. We look forward to working together with Summit in supplying not only reliable electricity but also primary energy sources to the people of Bangladesh. Our mission is to provide comprehensive solutions with state-of-the-art technologies to meet the underlying challenges in the energy industry globally." JERA aims for excellence in operations and to that end will support Summit with technical expertise and human resources.
IFC, IFC Emerging Asia Fund, and EMA Power, were shareholders of Summit since 2016 until now, and will exit through this transaction. However, IFC will continue to be a large lender to Summit.
Co-Head of the IFC Emerging Asia Fund, Andrew Yee, said, "It has been a privilege to be a board director of Summit Power International for the last three years and I congratulate Summit on the enormous progress made in that time. Bangladesh has come a long way and it is a pleasure to see new investors recognizing the vast potential offered by this market. We wish Summit and JERA even greater success in the years to come."
About Summit:
Summit is the first and largest independent power producer (IPP) in Bangladesh with a generating capacity of 1,941 MW, a 583 MW under construction and more than 3,000 MW in the pipeline. Summit also owns and operates a Floating Storage and Regasification Unit (FSRU) vessel and supplies 500 million cubic feet per day (mmcfd) of re-gasified gas to Bangladesh. Summit had earlier received equity investment in FSRU project from Mitsubishi Corporation and for power project from Taiyo Life Insurance Co of Japan. With an 8.13% GDP growth and a population of 170 million, Bangladesh requires more than 40,000 MW of electricity by 2030 providing a tremendous growth opportunity. Summit Group's Summit Power International is incorporated in Singapore. Summit Group's other assets in Bangladesh include Summit Communications, the largest fibre optics network owners (http://www.summitcommunications.net/) as well as Summit Alliance Port Limited ("SAPL"), the largest private sector port operations.
For more information, visit www.summitpowerinternational.com
About JERA Co. Inc:
JERA is an energy company with global reach that has strength in the entire energy supply chain, from participation in LNG and other fuel resource projects and fuel procurement, through fuel transportation to power generation. Established in 2015, JERA is an equal joint venture of two major Japanese electric companies, TEPCO Fuel & Power Incorporated and Chubu Electric Power Company. JERA's mission is to supply power and energy on a globally competitive basis, by effectively developing and managing its portfolio of energy chain assets and continuously optimizing its business. Within the power generation portfolio, JERA has domestic investments in 26 power projects with 67 GW of generating capacity and is around 10 GW of generating capacity overseas including projects under development. For more information, visit www.jera.co.jp
About IFC:
IFC, a sister organization of the World Bank and a member of the World Bank Group, is the largest global development institution focused on the private sector in emerging markets. For more information, visit www.ifc.org
For media inquiry:
Mohsena Hassan | E-mail: mohsena.hassan@summit-centre.com | M: +8801713081905 | Summit Corporation Limited

Atsuo Sawaki | E-mail: Atsuo.Sawaki@jera.co.jp | M: +81-80-2605-5406 | JERA Co., Inc.
Download Bengali Version