Media
01 October 2023
Back
Philippine, Bangladesh power giants: Gas needed in green transition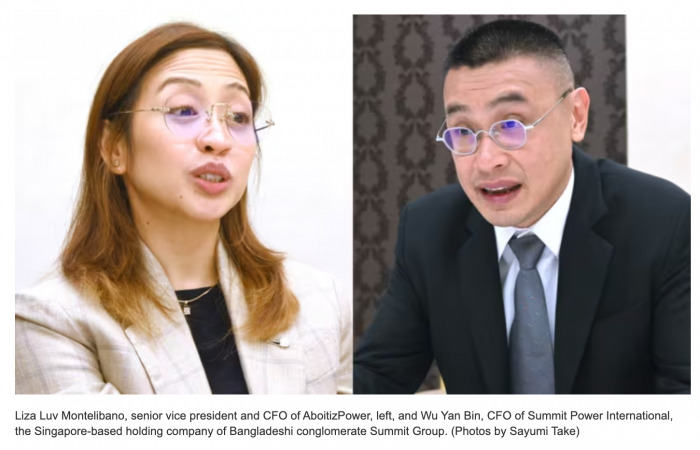 Bangladesh and the Philippines see a continued role for natural gas in assisting their move to cleaner energy. (Nikkei montage/Source photo by Reuters) 
SAYUMI TAKE, Nikkei staff writer
October 1, 2023 11:08 JST
Nikkei Asia
TOKYO -- Booming Asian countries like the Philippines and Bangladesh need natural gas to meet domestic energy demand as they shift to greener sources, according to their leading power providers.
AboitizPower, the power generation arm of Philippine conglomerate Aboitiz Group, and Bangladesh's largest power provider Summit Power International called for support from global investors as they work to transform their own corporate energy portfolios.
"What you seem to be seeing now is the international community adding pressure, just really pulling out [of fossil fuel projects]," Liza Luv Montelibano, senior vice president and chief financial officer (CFO) of AboitizPower, told Nikkei Asia in a recent interview in Tokyo on the sidelines of an energy event held by Japan's industry ministry.
"You already have a lot of financial institutions that don't support thermal facilities," Montelibano said. "But the existing capacities play the role of buying time to keep the grid stable, so that renewable and low-carbon technologies can develop," she said. "We can't be in a state of brownouts ... it's quite personal to me because I grew up with irritating brownouts."
The company, which supplies about one-fifth of the Southeast Asian nation's electricity needs, now has a generation capacity of about 4,500 megawatts, of which about 80% comes from coal and oil, and 20% from renewables. It aims to make that ratio roughly 50:50 while also doubling capacity by 2030.
That will be realized by adding 3,700 megawatts worth of solar and wind energy projects and 1,000 megawatts worth of gas plants at existing thermal facilities, according to Montelibano.
"Gas isn't exactly your best low carbon [fuel] but it's lower than coal, so for us, it's really a critical transition," she said. In her view, the fuel will support the company's reliability as a power provider until renewables develop into an economically viable, baseload source of electricity.
Most of Aboitiz's additional renewable capacity will come from solar, she said. The power source currently makes up just a slim portion of the national energy mix, but the government hopes to ramp up the ratio to account for 15% of generation by 2030.
The company is facing challenges as it seeks land for developing solar projects. "One of the problems is that pretty much all the land in the Philippines that have the irradiance levels to make a solar facility is either agricultural, or forest land," she said, unlike in South Africa or Middle Eastern countries where there is an abundance of flat, non-arable land. "The [climate] commitments asked for should not be totally disregarding of the situation of the countries."
A lack of renewable resources has also posed challenges for Bangladesh, according to Summit Power International, the Singapore-based holding company of Bangladeshi conglomerate Summit Group. Wu Yan Bin, the company's CFO, also spoke with Nikkei at the energy event.
"Land acquisition [for solar energy] can be quite a nightmare because 170 million people are packed in a small country, of which some of the areas can get flooded," said Wu. The monsoon period stretches to nearly six months in Bangladesh, which limits the amount of sun it gets.
Summit Power's energy portfolio consists of two-thirds gas and the rest oil. It plans to shift to a less carbon-intensive portfolio by increasing the number of gas plants that operate more efficiently and emit less carbon. But it has encountered "some resistance from financiers" in the past few years on funding gas-related activities, Wu said.
Rapidly growing South Asian country Bangladesh depended on fossil fuels for 98% of its electricity generation in 2022, while solar and wind energy accounted for just 1%, according to climate think tank Ember.
For such resource-poor countries, "one of the key limbs of decarbonization should be the replacement of some of the more polluting sources [like oil, coal] with gas," according to Wu.
Efforts to define which technologies should be promoted as contributing to the energy transition and be eligible for finance are gaining pace among countries, such as Japan, regional blocs like the EU and ASEAN and other international organizations. But taxonomies differ due to national interests and regional circumstances, meaning a clear standard has yet to emerge.
"Bangladesh is still highly dependent on foreign investment flows, so it's inevitable that we have to rely on the definitions of international financiers," said Wu. "But we also hope to urge them to really consider gas and consider the development stage and local conditions of Bangladesh and Asia ... Gas is a very critical transition fuel for the country and should also be regarded as bankable."