Summit Gazipur II receives USD 140 Million in Project Financing from Clifford Capital and Japan's SMBC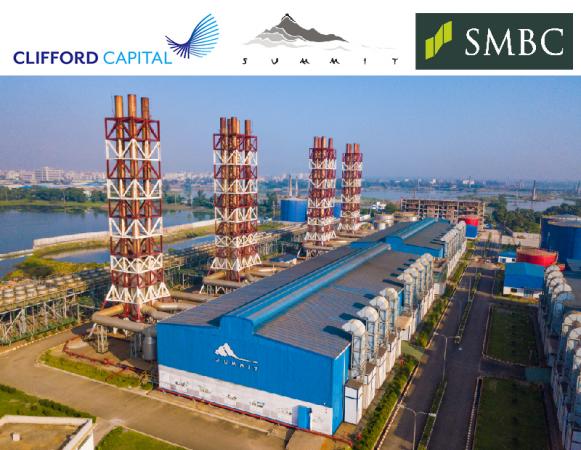 Photo caption: Summit receives USD 140 Million in Project Financing from international commercial financial institutions for Summit Gazipur II Power Plant in Bangladesh with support from Bangladesh Bank (BB) amidst lockdowns in both Bangladesh and Singapore due to COVID-19.
(Singapore, May 15, 2020): Summit has closed USD 140 Million (equivalent to BDT 1,190 Crore) as long-term financing from Clifford Capital Pte. Ltd. ("Clifford Capital") of Singapore and Sumitomo Mitsui Banking Corporation ("SMBC"), Japan's second largest bank for Summit Gazipur II Power Limited (300 MW). This is a milestone in Bangladesh's international investment and financing as Summit is the first Independent Power Producer (IPP) to receive financing from international commercial institutions. Previously most of the financing had come from development finance institutions (DFIs) such as DEG, FMO, IFC, ADB, IsDB, CDC, etc or had substantial portions in the financing mix .
The financial closure was achieved on April 22, 2020 during the continued lockdowns in both Bangladesh and Singapore. The Bangladesh Bank (BB) has provided outstanding support by processing various approvals during this lockdown period to facilitate the financing process.
Muhammed Aziz Khan, Chairman of Summit Group of Companies remarked,"In the midst of COVID-19 pandemic, to receive long-tenor low cost project finance from commercial lenders express Summit and Bangladesh's goodwill and reputation with the international community. We are grateful to our customers and financiers; and assure hard diligent work to progress."
Audra Low, Chief Executive Officer (CEO) of Clifford Capital said: "Clifford Capital is delighted to support Summit Power International, an established Singapore-based infrastructure developer, in the company's plans to expand its energy portfolio in Bangladesh. The financing is core to our mandate of supporting companies in Singapore in their overseas investments and stands testament to Clifford Capital's capabilities to structure, coordinate and execute innovative financings, leveraging on our expertise in the power sector in Bangladesh. It also showcases Singapore's role as a key infrastructure financing hub for the region with the sponsor, financiers and key advisers for this financing all based in Singapore."
Jeanne Soh, Head of Power, Renewables and Infrastructure, Structured Finance Department Asia-Pacific, Sumitomo Mitsui Banking Corporation (SMBC) commented, "We are happy to support our key customer Summit Corporation in connection with this transaction, and would like to extend our congratulations to the whole team who worked hard to close this important transaction under unprecedented circumstances. We look forward to a long and fruitful cooperation between SMBC and Summit Corporation."
Initially the local banks in Bangladesh -- Bank Asia, The City Bank, Prime Bank and Mutual Trust Bank had supported Summit through construction financing of Summit Gazipur II Power Limited and they have been repaid with this long term loan. Summit is expected to receive the last installment of the funding after the lockdown ends.
Summit Gazipur II Power Limited is a joint venture of Summit Corporation Limited and Summit Power Limited (SPL). The Project will supply power to the Bangladesh Power Development Board (BPDB) under a 15-year Power Purchase Agreement with a long-term fuel supply agreement with Summit Oil & Shipping Co. Ltd (SOSCL) the largest fuel oil supplier in Bangladesh. This Project was implemented as a fast-track project only in nine-months and began commercial operations on 10 May 2018, and had since been supplying reliable power into the grid, alleviating the power generation capacity shortages in Bangladesh.
About Summit Power International:
Incorporated in Singapore, Summit Power International is the first and largest independent power producer (IPP) in Bangladesh with a generating capacity of 1,941 MW, another 583 MW under construction. Summit also owns and operates a Floating Storage and Regasification Unit (FSRU) vessel and supplies 500 million cubic feet per day (mmcfd) of re-gasified gas to Bangladesh. Recently Japan's largest energy company JERA Co., Inc. ("JERA"), has acquired a 22% stake in Summit Power International. Summit had earlier received equity investment in its FSRU project from Mitsubishi Corporation.
For more information, visit www.summitpowerinternational.com and www.soscl.net
About Clifford Capital Pte. Ltd.:
Clifford Capital is a specialist provider of structured finance solutions established with support from the Government of Singapore to help Singapore companies and companies with a nexus to Singapore to grow internationally and capture new business in the global marketplace.
Clifford Capital offers competitive and bespoke project finance, asset-backed and other structured debt financing solutions for eligible Singapore-based companies in support of their overseas investments or exports in the infrastructure, offshore marine and shipping sectors. Since its inception in 2012, the company has committed over US$2 billion to various projects around the world including Asia, the Middle East, Africa, Europe, Central and South America.
As a non-bank financial institution with a unique business model, Clifford Capital is well-positioned to offer competitive financing solutions to clients, particularly in terms of longer maturities for senior debt and flexible debt product offerings across the capital structure.
For more information, visit https://www.cliffordcap.sg/
About Sumitomo Mitsui Banking Corporation (SMBC):
Headquartered in Tokyo, SMBC is a leading Japanese financial institution and a core member of the Sumitomo Mitsui Financial Group (SMFG). We work across SMFG to offer personal, corporate and investment banking services to our network that extends across more than 40 countries and regions, 16 of which are in Asia. We are driven by our commitment to lead the way in providing value to our customers and the markets in which we operate.
For more information, visit www.smbc.co.
For more information:
Mohsena Hassan | Email: mohsena.hassan@summit-centre.com | Mobile: +8801713081905
Download Bengali Version