Media
21 November 2017
Back
Summit LNG Terminal signs USD 100 Million worth turnkey contract with Geocean SAS and MacGregor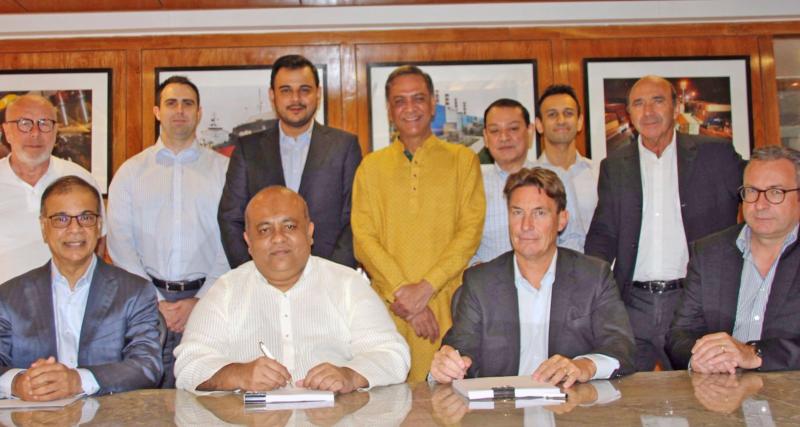 Photo caption: (Left to right) Chairman of Summit Group Muhammed Aziz Khan, Managing Director of Summit LNG Terminal ANM Tariqur Rashid, Managing Director of Geocean Fabrice Novel and Business Development Manager of Geocean Philippe Besson.
Media Release (Dhaka) – November 21, 2017: Recently Summit LNG Terminal, a subsidiary of Summit Power International, signed a USD 100 Million turnkey contract with marine work contractor consortium comprising of Geocean SAS and MacGregor for design, engineering, procurement, fabrication, installation and testing of the Fixed Infrastructure (FI) for its Floating LNG Storage and Regasification Terminal (FSRT) at Moheskhali, Cox's Bazar. The project completion date is 16 months from the time of signing.
The Fixed Infrastructure will consist, among others, of Disconnectable Turret Mooring (DTM) plug for FSRU vessel system with anchors (suction piles), flexible riser with floatation and tether system, control and hydraulic umbilical, PLEM, Stern Mooring System (SMS) of FSRU vessel offshore pipelines and landfall works.
In August 2017, Summit LNG Terminal had signed Time Charter Party (TCP) agreement with Excelerate Energy for securing FSRU vessel.
About Summit Power International: Summit Power International is a leading infrastructure developer and operator in South Asia. It comprises a group of businesses which develop, own and operate power generating assets and Floating Storage Regasification Unit (FSRU). Incorporated in Singapore, Summit Power International is a leading developer, owner and operator of energy assets in emerging Asia.
Having established Bangladesh's first independent power plant in 1998, Summit Power International is the largest Independent Power Producer in the country, representing approximately 21% of the private power market with consolidated generating capacity of 1,160 megawatts. http://www.summitpowerinternational.com
About Geocean: Geocean, subsidiary of Entrepose Group, performs turnkey offshore projects under EPCI-type contracts in the oil and gas, mining, chemical industries as well as on the public works market. It builds coastal structural works for power stations, desalination plants, water treatment plants and offshore fields. Geocean has the ability to work also on landfalls in shallow-water zones, where it uses its line of specialized equipment developed in-house.www.geocean.com
About MacGregor: MacGregor shapes the offshore and marine industries by offering world-leading engineering solutions and services with a strong portfolio of MacGregor, Hatlapa, Porsgrunn, Pusnes and Triplex brands. Shipbuilders, owners and operators are able to optimise the lifetime profitability, safety, reliability and environmental sustainability of their operations by working in close cooperation with MacGregor.
MacGregor solutions and services for handling marine cargoes, vessel operations, offshore loads, crude/LNG transfer and offshore mooring are all designed to perform with the sea. www.macgregor.com
Download Bengali Version