Summit, Mitsubishi and GE announce the largest private FDI in Bangladesh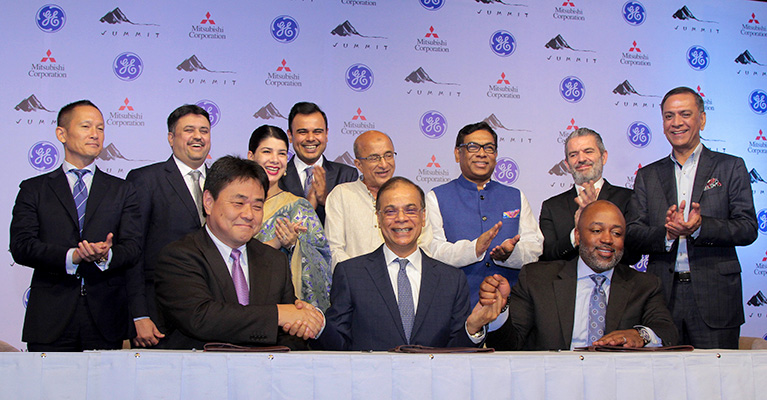 Summit, Mitsubishi and GE to make US$ 3 Billion (about BDT 24 Thousand Crore) investment – thus far the largest in Bangladesh's private sector. From left (Mitsubishi Corporation's Senior Vice President of Infrastructure Business Division Mr Tetsuji Nakagawa, Summit Group's Chairman Mr Muhammed Aziz Khan and GE Power's President & CEO Mr Russell Stokes.)
Media Release (Dhaka) 11 July 2018:

∎ Summit, Mitsubishi and GE have announced a US$ 3 Billion (about BDT 24 Thousand Crore) investment – thus far the largest private foreign direct investment (FDI) in Bangladesh. Summit will be the majority owner of the project while Mitsubishi and GE will be owning the remaining.

∎ The project is designed to be completed at a global best tariff by 2023 beginning from 2019. With implementation of this project in 2023, Summit will be doubling its generation capacity.

∎ Scope of this project includes four units of 600 MW combined cycle power plants (total generating capacity of 2,400 MW) powered by GE's flagship 9HA gas turbines, two units of on-shore LNG terminal with total of 380,000 m³ capacity, oil terminals with 100,000 MT capacity and another 300 MW HFO-based power plant.


Summit Corporation Limited ("Summit"), the largest independent power producer in Bangladesh, today announced that Summit, GE (General Electric Company) and Mitsubishi Corporation would be investing approximately US$3 Billion. This is in continuation with an earlier MoU - signed for a joint venture with Mitsubishi Corporation (on 13th March 2018 in Singapore) in gracious presence of the Honorable Prime Minister of Bangladesh Sheikh Hasina. GE will be investing in equity and technology in the four 600 MW each combined cycle power plants with a total capacity of 2,400 MW. Mitsubishi Corporation will be the partner for the complete integrated project. The project will be using world's most efficient and environment-friendly technology. The LNG terminal will be using cutting-edge technology so that there is no boil-off, utilizing all the gas for electricity generation.
The signing of the MoU was witnessed by the Honorable Advisor to the Prime Minister on Power, Energy and Mineral Resources Dr. Tawfiq-e-Elahi Chowdhury, BB, PhD, honorable State Minister of Power, Energy and Mineral Resources Mr. Nasrul Hamid, MP and other senior officials.
Mr. Muhammed Aziz Khan, Chairman of Summit said: "In support of the Government's Vision 2021 and 2030, Summit is partnering with GE and Mitsubishi to bring in the largest private FDI to Bangladesh, best technology at world's lowest tariff to meet increasing demand of people and businesses for energy and power."
"GE Power is navigating customers through an energy transformation with a complete portfolio of fuel choices and innovative technology," says Mr. Russell Stokes, President & CEO of GE Power. "In partnership with Summit, our HA technology enables unprecedented levels of efficiency to strengthen Bangladesh's power generation."
Download Bengali Version