Media
24 November 2019
Back
Summit Power approves 35% cash dividend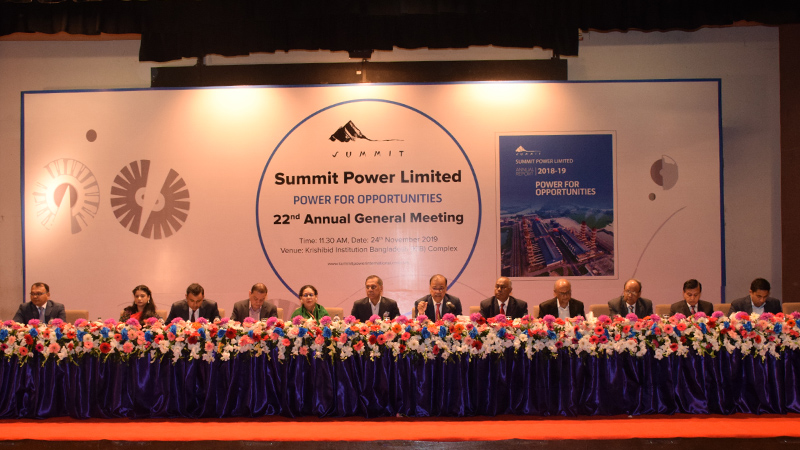 Photo Caption: Presided over by the Chairman of Summit Power Limited Muhammed Aziz Khan, the 22nd Annual General Meeting (AGM) was held at Krishibid Institution Bangladesh (KIB) Complex, Dhaka.
(Dhaka) 24th November 2019, Sunday: Upon approval in presence of the shareholders at the 22nd Annual General Meeting of Summit Power Limited, the Chairman Muhammed Aziz Khan said, "After two consecutive years of offering 30% dividend, we are happy to announce 35% dividend this year."
He also added, "This year to ensure best maintenance of the power plants, Summit awarded Wärtsilä, the Finnish technology group biggest ever signed service deal, in terms of MW generation, in the Bangladesh's power and energy sector. For project financing of Ace Alliance Power Limited (AAPL), we raised capital through issuance of Preference Shares worth BDT 805 Million and USD 68.60 Million long term loan from IDCOL, ICD and OFID. Also for securing the Company from exposure in London Inter-bank Offered Rate (LIBOR) against Company's foreign currency borrowing, we entered into Interest Rate Swap (IRS) deals. We have also implemented Enterprise Resource Planning (ERP) suite for better accountability and transparency."
Presided over by Chairman of Summit Power Limited Muhammed Aziz Khan, the meeting was attended by Vice Chairman Md Latif Khan, Director Anjuman Aziz Khan, Director Jafer Ummeed Khan, Director Faisal Karim Khan, Director Azeeza Aziz Khan, Director Syed Fazlul Haque FCA, Managing Director Lt Gen (Retd) Engr. Abdul Wadud, Independent Director Faruq Ahmed Siddiqi, Director Helal Uddin Ahmed, Director Arif Al Islam and Financial Controller & Company Secretary Swapon Kumar Pal FCA along with other senior officials.
About Summit Power Limited:
Summit Power Limited (SPL) is the leading independent power producer (IPP) of Bangladesh and a publicly listed AAA rated company. It is part of Summit Group that has combined 1,941 MW installed capacity and supplies electricity to the National Power Grid. Summit Group has received five consecutive the best power plant awards from government of Bangladesh since 2013. Summit Power Limited has been consistent in issuing dividend since its enlistment in both the Dhaka and Chittagong Stock Exchanges in 2005.
For further enquiries:
Mohsena Hassan | E: mohsena.hassan@summit-centre.com | M: +88 0171 308 1905

Visit www.summitpowerinternational.com/SPL, and follow Summit on Facebook, Twitter and on LinkedIn.
Download Bengali Version