Media
08 December 2018
Back
Summit Power Limited wins ICMAB Best Corporate Award sixth times in a row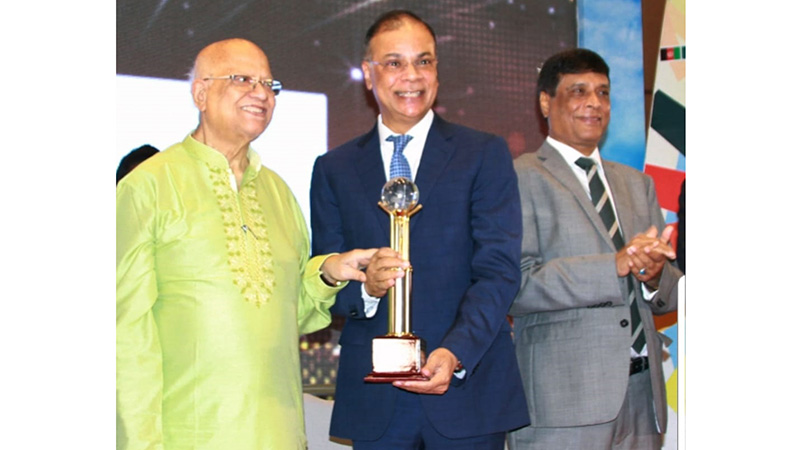 Photo Caption: Chairman of Summit Group Muhammed Aziz Khan received the first prize at prestigious ICMAB Best Corporate Award 2017 in the Power Generation category from the Honorable Finance Minister Abul Maal Abdul Muhith, MP.
Summit Power Limited has secured the first position at the ICMAB Best Corporate Award 2017 under the power generation category. This is the sixth time in a row that Summit Power Limited has received this recognition from the ICMAB for corporate governance. Summit Power has been consistently ICMAB award winner since 2012.
The award ceremony was held at the Hotel InterContinental, Dhaka on 8th December 2018, Saturday. Vice Chairman of Summit Group Md Latif Khan, Vice Chairman Md Farid Khan, AMD of Summit Corporation Faisal Karim Khan, Director of Summit Group Salman Khan, Managing Director of Summit Power Lt Gen (Retd) Eng Abdul Wadud, Deputy Managing Director Engr Md Mozammel Hossain, Company Secretary Swapon Kumar Pal FCA, Chairman of Bangladesh Securities and Exchange Commission (BSEC) Dr. M. Khairul Hossain, President of South Asian Federation of Accountants (SAFA) CA (Dr) Suvod Kumar Karn, Head of ACCA, Middle East Lindsay Degouve Nancques, Chairman of CABC Committee of ICMAB Mohammad Ali Newaz FCMA, and President of ICMAB Mohammed Salim FCMA were also present among the dignitaries.
About Summit Power Limited:
Summit Power Limited (SPL) is the leading independent power producer (IPP) of Bangladesh and a publicly listed AAA rated company. Presently Summit Group is supplying 1,941 MW electricity to the National Power Grid. Recently Summit Power have installed 449 MW power plants in Kodda, Gazipur. Summit Group has received five consecutive the best power plant awards from government of Bangladesh since 2013.
About ICMAB Best Corporate Award:
Since 2007, the award was introduced as a noble initiative to recognize the invaluable contribution made by the corporate entities in Bangladesh's different sectors and encourage increased competitiveness among the enterprises for better efficiency. This year The Institute of Cost and Management Accountants of Bangladesh (ICMAB) awarded thirty-two companies under thirteen different categories for Best Corporate Award 2017.
Media Articles
English Newspaper
Daily Sun, Dec 09, 2018
Financial Express, Dec 09, 2018
Energy & Power, Dec 09, 2018

Bengali Newspaper
Kaler Kantho, Dec 09, 2018
Bonik Barta, Dec 09, 2018
Nayadiganta, Dec 09, 2018

Online Newspaper
Arthoshuchak, Dec 09, 2018
sharebazarnews, Dec 09, 2018