Media
07 August 2019
Back
Summit supports UNICEF to develop youth employability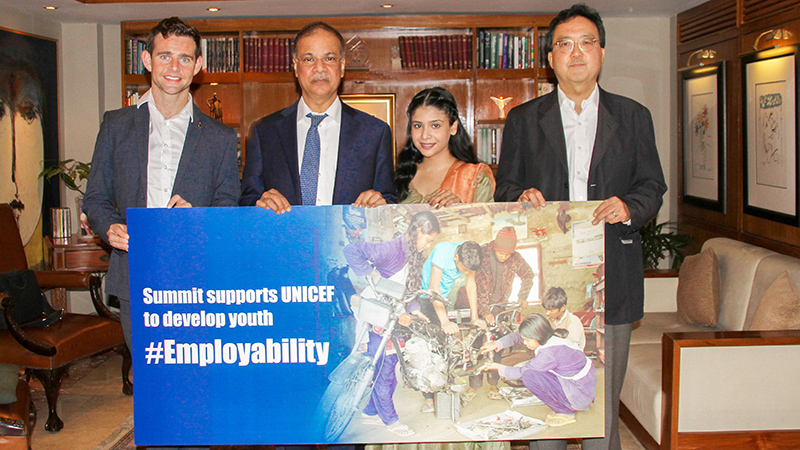 Photo Caption: Chairman of Summit Group Muhammed Aziz Khan pledged support to UNICEF's Alternative Learning Program for Out of School Adolescents. UNICEF Representative in Bangladesh Tomoo Hozumi accepted the donation of 10 lakh taka.
(Dhaka) 7th August 2019, Wednesday: Bangladesh is blessed with a young population who needs the right skills to be productive. Summit as part of its Corporate Social Responsibility (CSR) is supporting UNICEF to train out-of-school adolescent children to develop the skills on standardized trade such as motor cycle mechanics, mobile phone and air conditioner servicing enabling them to earn a living.
Muhammed Aziz Khan, Founder Chairman of Summit said, "The youth in Bangladesh are talented and hardworking. We are supporting UNICEF to develop employable skills for out-of-school children."
Azeeza Aziz Khan, Director of Summit Group and Simon Pickup, Corporate Alliances and CSR Specialist, UNICEF Bangladesh were also present during the event.
About UNICEF's Alternative Learning Program (ALP) for Out of School Adolescents:
ALP provides learning pathway for most disadvantaged and vulnerable out of school adolescents to bring them back in to learning ladder and link with jobs and decent life. In partnership with BRAC, this programme provides decent employment through a 6-month apprenticeship programme including theoretical and soft skills training. The intervention is designed with the technical support from ILO following National Technical and Vocational Qualification Framework (NTVQF). Using Recognition for Prior Learning (RPL) mechanism, learners can get access to national certification and re-enter to the education highways for further learning. There are 17 trades so far standardized where both girls and boys are participating. All the learners are receiving direct cash as allowance to bear the minimum cost including transportation even during apprenticeship period.
About Summit's CSR activities:
Summit is the largest infrastructure conglomerate in Bangladesh. As part of Corporate Social Responsibility (CSR), Summit has long-standing partnerships with several non-governmental organisations (NGOs) to support projects that improve access to education, healthcare and social services, sports, and arts and culture. Read more on Summit's CSR activities: https://summitpowerinternational.com/corporate-social-responsibility
For further enquiries:
Mohsena Hassan | E: mohsena.hassan@summit-centre.com | M: +88 0171 308 1905
Please visit www.summitpowerinternational.com, and follow Summit on Twitter, YouTube and LinkedIn.
Download Bengali Version