Media
07 August 2019
Back
Summit supports UNICEF to develop youth employability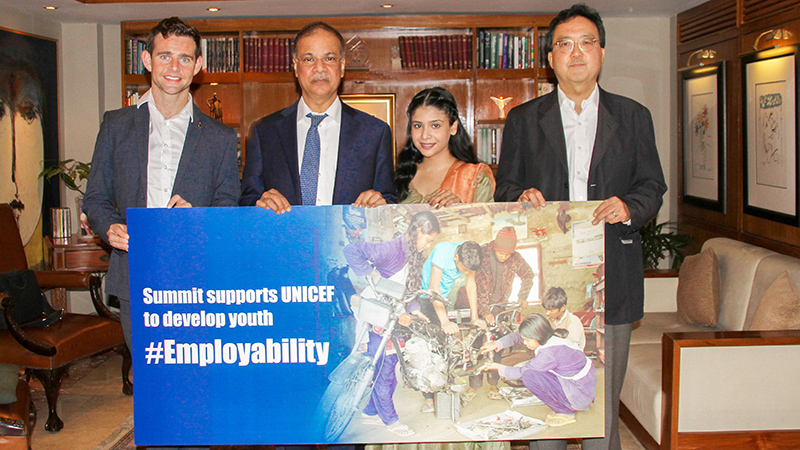 Photo Caption: Chairman of Summit Group Muhammed Aziz Khan pledged support to UNICEF's Alternative Learning Program for Out of School Adolescents. UNICEF Representative in Bangladesh Tomoo Hozumi accepted the donation of 10 lakh taka.
Bangladesh is blessed with a young population who needs the right skills to be productive. Summit as part of its Corporate Social Responsibility (CSR) is supporting UNICEF to train out-of-school adolescent children to develop the skills on standardized trade such as motor cycle mechanics, mobile phone and air conditioner servicing enabling them to earn a living.
Muhammed Aziz Khan, Founder Chairman of Summit said, "The youth in Bangladesh are talented and hardworking. We are supporting UNICEF to develop employable skills for out-of-school children."
Azeeza Aziz Khan, Director of Summit Group and Simon Pickup, Corporate Alliances and CSR Specialist, UNICEF Bangladesh were also present during the event.
English News Paper
The Daily Star, August 11, 2019
The Financial Express August 09, 2019
The Daily Sun, August 09, 2019
New Age, August 09, 2019
Bangladesh Post, August 08, 2019
Bengali Newspaper
Prothom Alo, August 10, 2019
Bonik Barta, August 08, 2019
Daily Naya Diganta, August 09, 2019
Jai Jai Din, August 09, 2019
Ajker Bazzar, August 09, 2019
Daily Inqilab, August 09, 2019
Sharebiz, August 15, 2019
Online Portal
Energy & Power, August 09, 2019
Social Media
UNICEF (twitter), August 12, 2019
Summit Power International (Facebook), August 08, 2019
Summit Power International (Facebook), August 08, 2019
Summit Power International (Twitter), August 08, 2019