SPL Corporate Social Responsibility
ENVIRONMENTAL, SOCIAL & GOVERNANCE
Corporate Social Responsibility
In March 2020, the Bangladesh government declared lockdown for the pandemic. During the lockdown, there were two Eid festivals when historically almost 25% of the annual retail sales take place creating many temporary jobs. There was a substantial drop in sales. In addition, Barisal and Khulna were affected by the super cyclone Amphan with substantial damage in fisheries and agriculture sectors. Due to the cyclone Amphan, about 22 million households were temporarily left without power. We have invested about BDT 3 Crore in our communities which is equivalent to approximately USD 0.35 million in our CSR activities in the last financial year.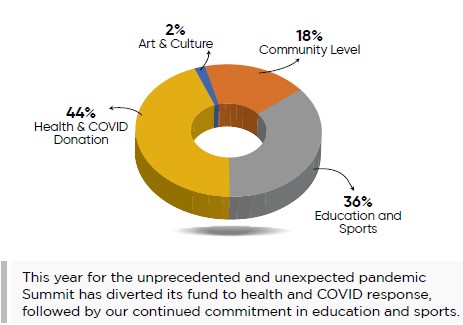 CONTRIBUTION DURING PANDEMIC
Thermal Scanners to the Health Ministry
Summit presented five world-class thermal scanners to the Ministry of Health and Family Welfare (MoHFA) for effectively and speedily identifying body temperatures of the passengers at international airports in Bangladesh. The thermal scanners helped in correct identification of passengers with fever, which is one of the major symptoms of coronavirus (COVID-19) and enabled better coordination with airport and public health professionals for quarantine.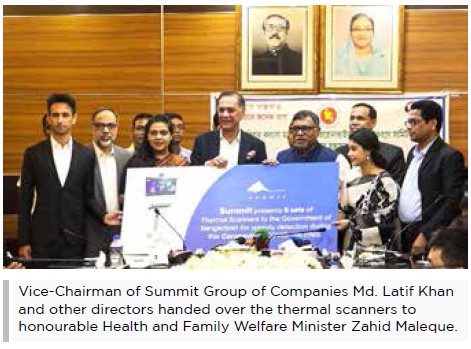 Hon. Prime Minister's Relief and Welfare Fund
Vice-Chairman of Summit Group of Companies Md. Farid Khan handed over a cheque of BDT Three Crore to the Principal Secretary to the Honourable PM Dr. Ahmad Kaikaus in virtual presence of the Honourable Prime Minister Sheikh Hasina at the Prime Minister's Office to help daily wage earners.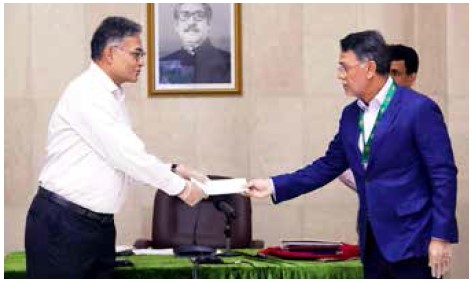 PP gears and masks for medical professionals
In the wake of the global coronavirus pandemic many medical workers were unsafe as they render healthcare to the patients. To support Bangladesh's health and medical workers who are serving selflessly, Summit provided high quality two thousand Protective Suits and fifty thousand masks specifically made for this purpose.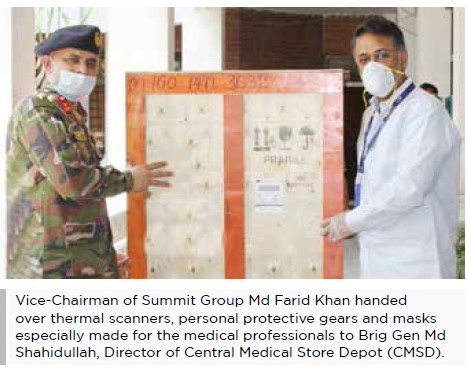 OTHER INSTITUTIONS:
Support Jaago for providing relief, consisting of food and medical supplies, to the daily wage earners
The COVID-19 pandemic has thrust our community into unknown territory and many in our community have faced both health and economic impacts. Summit supported Jaago for providing relief, consisting of food and medical supplies, to the daily wage earners.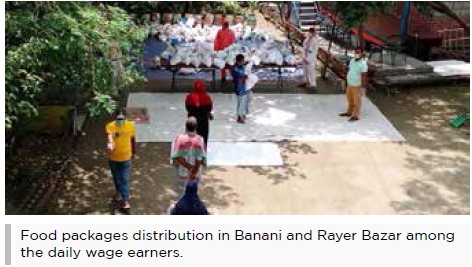 Support Prothom Alo Trust for providing relief
To battle against the COVID-19 outbreak Summit distributes relief and cash money to 1,020 students family in remote areas such as Teknaf (Cox's Bazar), Ghogadoho (Kurigram), Godagari (Rajshahi), Padma Char (Rajshahi), Daulatkhan (Bhola), Niyamotpur (Naogoan).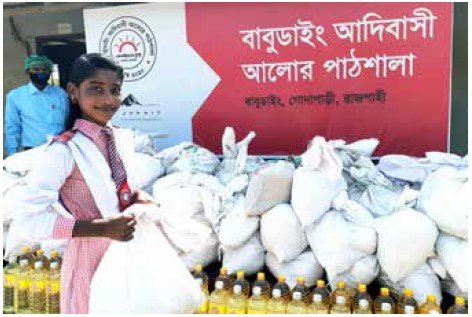 Support SEID for providing relief, consisting of food to the SEID-Summit Community Therapy School Students Family
Poor children with developmental disabilities such as in SEID in Kamrangirchar are more vulnerable to corona virus due to their weak immune system, inadequate living standard, negligence, and lack of awareness. As part of CSR, we at Summit have provided essential packages with ten masks, two strips of Paracetamol, three bottles of Napa syrup, and five mini soaps to each family of the disable children.
Support Shurer Dhara for providing relief, consisting of food to the Shurer Dhara School Students Family
Summit supports financially disadvantaged slums children's families through Shurer Dhara-Music for Development, an organisation that was founded by Rezwana Chowdhury Bannya.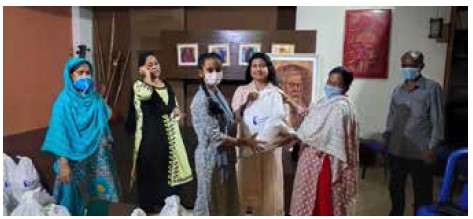 CONTRIBUTION TO THE COMMUNITY
Diplomatic Correspondents Association (DCAB)
Summit actively facilitates Diplomatic Correspondents Association, Bangladesh (DCAB). DCAB is a professional forum of diplomatic correspondents with the mission to cover the foreign ministry, issues of foreign policy, international security, trade and development, and different international organisations, including diplomatic missions and donor agencies.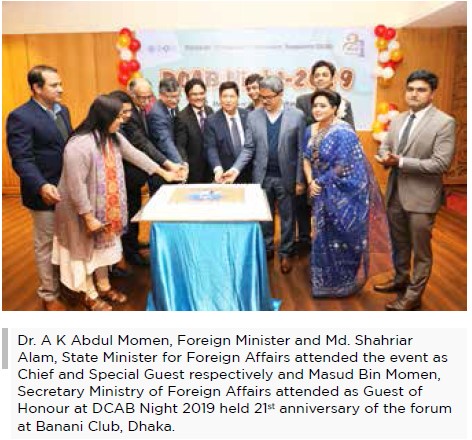 Blanket Distribution
Summit Power Limited carried out a blanket distribution drive to help the underprivileged to fight the harsh winter across the country. This year more than 2,000 selected helpless and poor people got blankets across the country.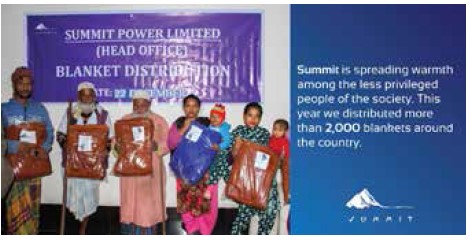 Helping the victims of cyclone Amphan
Cyclone Amphan devastated regions of the Southern Part of Bangladesh in May 2020 which affected more than a million people. Summit provided emergency relief for vulnerable communities of the victims of the cyclone Amphan.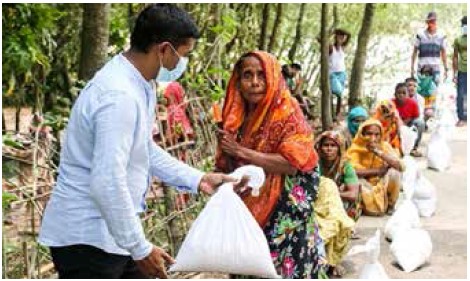 EDUCATION
Alor Pathshala
Summit fully sponsors six remote schools through Prothom Alo Trust. More than a thousand students are studying free of cost in these schools around Bangladesh.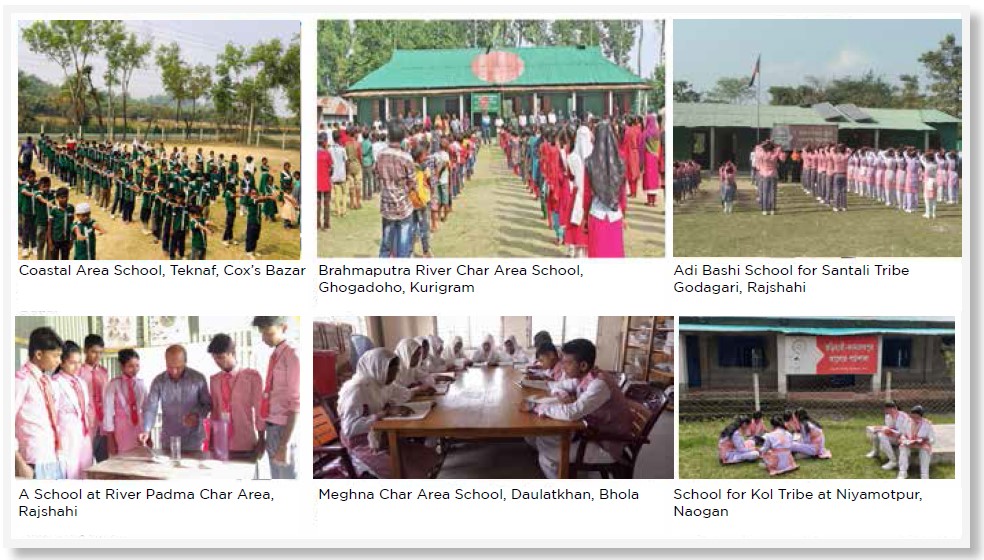 SEID-Summit Community Therapy School
Since 2009, Summit has been sharing the same objectives for promoting the rights of underprivileged children with disabilities with SEID Trust and sponsors SEID Community Therapy School at Kamrangirchar, Dhaka. The support of Summit for the development of underprivileged children with disabilities of SEID has been proven to be encouraging disable children of families living in slums. Summit Power Limited's Director Ms. Azeeza Aziz Khan is the distinguished member of SEID Trust's Board of Directors.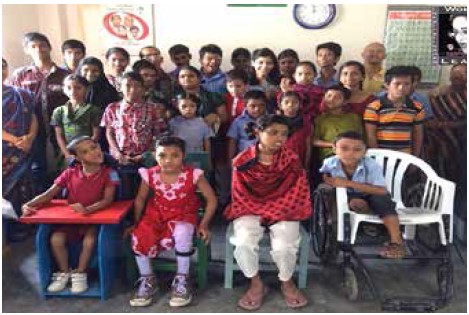 Dhaka Residential Model College Science Club
Summit proudly sponsored the 13th DRMC Summit National Science Carnival. This is one of the biggest science programmes in Bangladesh. There were several Olympiads including Mechanics, Mathematics, Physics, Chemistry, Biochemistry, Astronomy, Earth, Biology and others.
ARTS AND CULTURE
Hamiduzzaman Sculpture Park
Summit has set up 'Hamiduzzaman Sculpture Park' located at Summit Gazipur 464 MW Power Plant's premises at Kodda, Gazipur to promote art education.The park contains around 20 sculptures and installations including the country's largest 340-feet mural. The park is work in progress as the artist adds to the collection.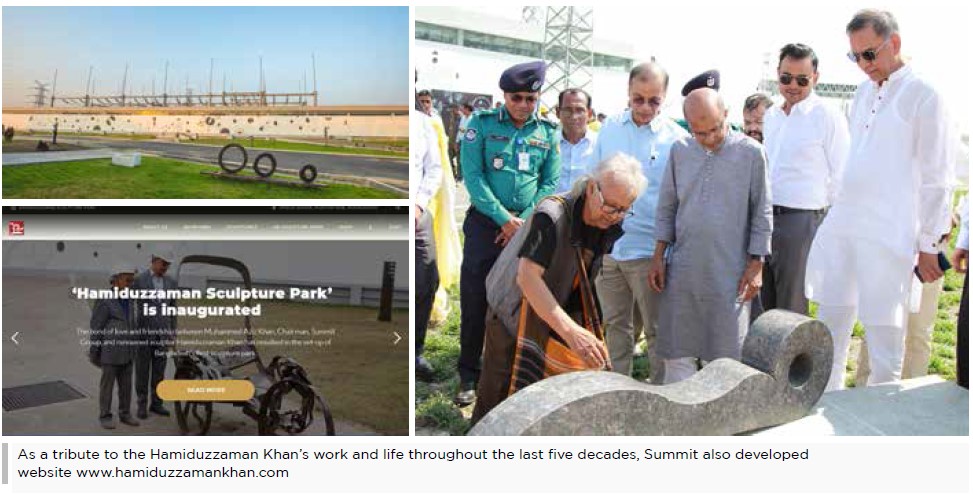 South Regional Clay Artisan Conference and Honouring programme
Bangladesh has a rich heritage of terracotta art of over thousands of years. To encourage the clay artisans, Summit sponsors the fair along with art competition and award ceremony. This year over 200 artisans gathered to exhibit their creations and fourteen were being honoured for their contribution to the art of pottery.. Summit has a 120 MW power plant in Barisal.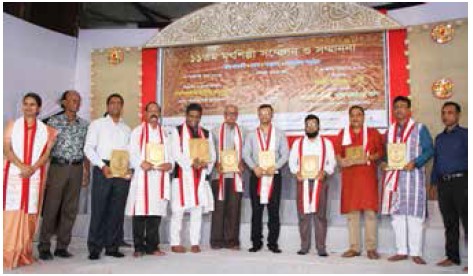 'Feeling the Void' of Hamiduzzaman Khan
Summit is pleased to sponsor Prof Hamiduzzaman Khan's solo art exhibition titled 'Feeling the Void' which took place at Dwip Gallery in Dhaka. The exhibition featured watercolour paintings by eminent artist and sculptor Professor Hamiduzzaman Khan. The paintings dealt with abstraction of natural landscape and human environment.
Shurer Dhara
Summit supports financially disadvantaged children to learn music and other performing arts through Shurer Dhara -Music for Development, an organisation that was founded by Rezwana Chowdhury Bannya, a distinguished alumna of Viswa Bharati.
SPORTS
Summit Cup Golf Tournament
Since 1996, Summit has been sponsoring and organising Summit Open Golf Tournament at Kurmitola Golf Club, Dhaka to support this emerging sport in Bangladesh.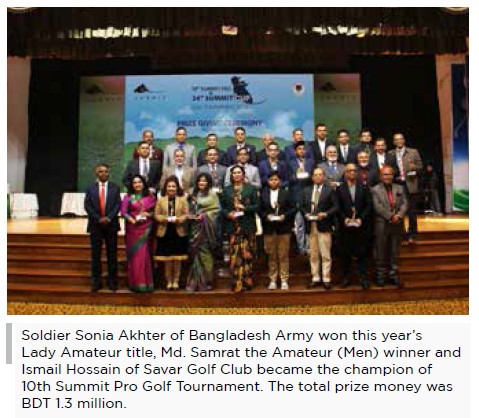 Sabrina Sultana, Gold Medal Winner Shooter
Summit had supported the treatment of Bangladesh's former Commonwealth Games gold medal winner shooter Sabrina Sultana. Unfortunately, she is now bedridden at the young age of only 44 due to neuromyelitis optica, a disease that rendered her lower half almost completely paralysed.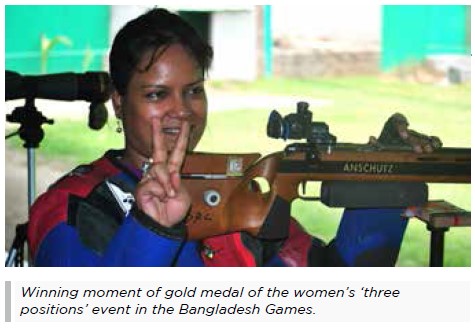 CSR Committee
This year Summit formed a CSR Committee. The CSR Committee will govern and review the CSR Activities of the Company from time to time. The present composition of the CSR committee of the Board is as below: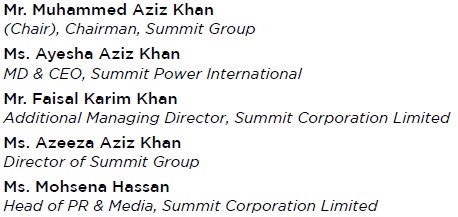 ENVIRONMENTAL, SOCIAL & GOVERNANCE