SPL Corporate Social Responsibility
ENVIRONMENTAL, SOCIAL & GOVERNANCE
Corporate Social Responsibility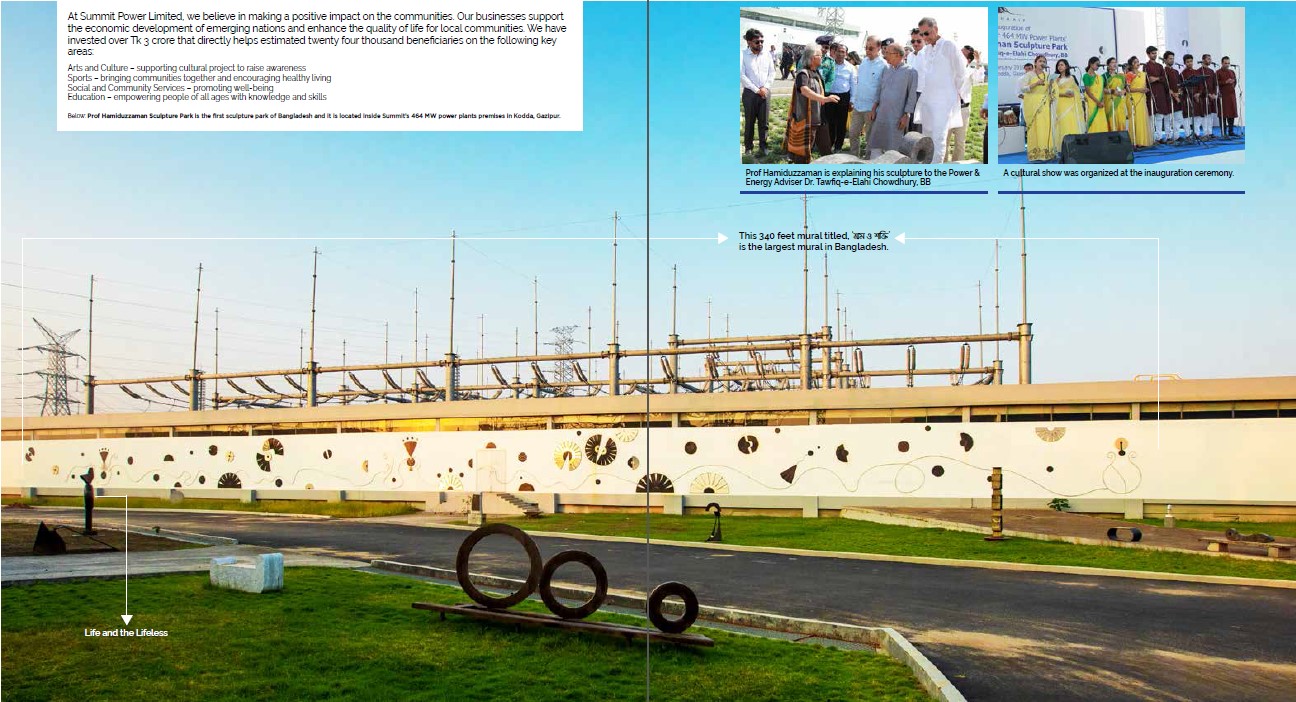 Shurer Dhara
Summit has been supporting Shurer Dhara Music for Development, an organisation that was founded by Rezwana Chowdhury Bannya, a distinguished alumna of Viswa- Bharati (the renowned university of Nobel Laureate Rabindranath Tagore), a Professor of Music at the University of Dhaka and an accomplished exponent of Rabindra Sangeet. Summit supports financially disadvantaged children to learn music and other performing arts.
URBANA
URBANA is an architectural firm established in 1995 founded by Kashef Chowdhury who received the prestigious Aga Khan Award for Architecture in 2016. URBANA's works are not only spatially and architecturally extraordinary in their immediacy, they also bear witness to the high social relevance. They thoughtfully address grave issues such as population density, climate change, migration etc. Bangladesh's river delta landscape is an area prone to flooding, cyclones, and rising sea levels.
South Regional Clay Artisan Conference and Honoring programme
Bangladesh has a rich heritage of terracotta art of over thousands of years. To encourage the clay artisans, Summit sponsors the fair along with art competition and award ceremony. Eight artisans were awarded for their excellence in terracotta and earthenware crafts. Summit has a 120 MW power plant in Barisal.
Summit Open and Summit Cup Golf Tournament
Since 1996 Summit has been sponsoring and organizing Summit Open Golf Tournament at Kurmitola Golf Club, Dhaka. Golf is an emerging sport in Bangladesh and the tournament is used to promote the game, providing an opportunity for people to get involved in new hobbies and garner new talents.
Wheelchair Cricket Welfare Association Bangladesh (WCWAB)
Summit supports Wheelchair Cricket Welfare Association Bangladesh (WCWAB). WCWAB emerged as a national level voluntary association for the physically challenged cricketers of Bangladesh with the aim of strengthening their position in the society. It started with 26 players and number of memberships has risen around 200.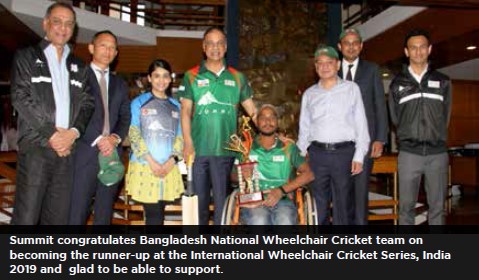 Power and Energy Week 2018
Summit proudly sponsored Power & Energy Week 2018. A side event was organised for encouraging the youths, strategic professionals, and industry owners, researchers to elaborate their innovative ideas, new technologies through discussions, demonstration, education, research and events. This three daylong event had Ministerial sessions for policy dialogues exchange and deep industrial insights, 36 hours of Hackathon to ensure youth engagement, innovation expo to demonstrate the industrial innovations and career summit for the students to experience live interview, walk-in recruitment and workshop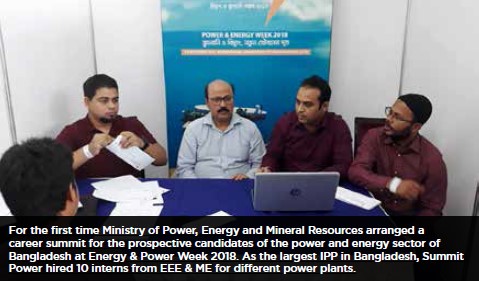 Kirtonkhola River Bank Protection
Summit Barisal Power Limited (SBPL) has constructed 307 meter long bank protection by CC blocks and sand filled geo bags to one of the major braided channel along Kirtonkhola river. It's performance in neutralizing the water surge as much as possible is satisfactory. It has also elevated the aesthetic value of SBPL and made Kirtonkhola river's surrounding a centre of entertainment
Distribution of Blankets
Summit Power Limited carried out a blanket distribution drive to help the underprivileged to fight the harsh winter across the country. This year more than 2,000 selected helpless and poor people got blankets across the country.
Capital Market Journalist Forum (CMJF)
Summit actively facilitates Capital Market Journalist Forum (CMJF). CMJF is a platform of Dhaka based working reporters who report on Bangladesh capital market on a daily basis.
Mosques and Orphanage
Summit also recognises the importance of creating sustainability directly around the plants that we operate. To help the poor, this year we have supported mosques and orphanages like Kaderia Chistia Taheria Madrasa, Kotbari Bishaw Jame Mosjid, Al Amin Ebtadia Madrasa and Raidani Azizia Modina Madrasa
At Power Plant Level
We want to be a part of local communities wherever we operate. Summit works at local level including improvement of local schools, roads, drainage systems and other activities for the welfare of the communities where it operates.
SEID Trust
Since 2009, Summit has been sharing the same objectives for promoting the rights of underprivileged children with disabilities with SEID Trust and sponsors SEID Community Therapy School- Kamrangirchar, Dhaka. The support of Summit for the development of underprivileged children with disabilities of SEID has been proven to be encouraging disable children of families living in slum.
Prothom Alo Trust
Alo'r Pathshala of Prothom Alo Trust has a mandate to establish and manage schools in remote areas of Bangladesh where there is no government funded education. Summit has been operating five schools through Prothom Alo Trust since 2009. Muhammed Aziz Khan was the former Chairman of the Prothom Alo Trust Board for two consecutive terms (2012-2016) and now serves on the Board of Trustees.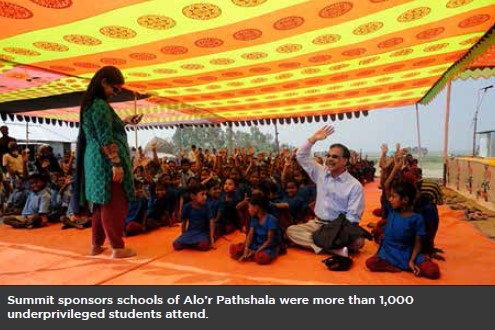 Bangladesh Development Initiative (BDI)
This year BDI organised International Conference at Yale University. The theme of this conference is "Bangladesh in the Next 30 years: Challenges and Prospects." This conference featured critical thinkers, change makers, thought leaders, young scholars, experienced educators, eminent journalists, lawyers and human rights activists, development specialists, NGO representatives, practitioners, and students. The goal of the conference was to create an inviting space for discussions on diverse issues that are relevant to the future development of Bangladesh.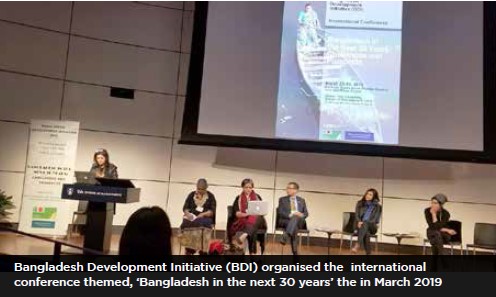 Centre for Research and Information (CRI)
For the fifth consecutive year Centre for Research and Information (CRI) organized the 'Joy Bangla Concert 2019'. Apart from the music, at the event there telecast of the historic speech and the ambience of 7th March, 1971 through the performance by different groups of artists. CRI also set up different stalls to showcase and merchandize their publications and other material.
Bangla Olympiad
Summit sponsored 'Bangla Olympiad' of international Hope School, in tribute to all martyrs of language movement. This is an annual inter-school Bangla language and culture event that was attended by students of 70 different schools. In this event students participates in six different categories - essay writing, poem recitation, extempore speech, group dance, singing and drawing in sixteen groups.
ENVIRONMENTAL, SOCIAL & GOVERNANCE