Summit Power Limited
ENVIRONMENTAL, SOCIAL & GOVERNANCE
Sustainability Report
Governance and sustainability management
Summit Power Limited being the first Bangladeshi private sector power generation company, always urges to contribute to the development of the nation by providing more quality and uninterrupted electricity to the vast majority of rural Bangladesh for their personal, social, environmental and economic development.
Sustainability is a high priority for our company and our value chain. It's therefore integrated into all aspects of our business. In 2018-19 we further developed our business strategy and aligned it consistently with the requirements of the future energy world. Our focus is on the future of our business and individual growth areas.
We're committed to deploying our products and services in a socially and environmentally responsible manner and where they're needed most. We operate in a transparent way for our stakeholders (eg employees, vendors, lender, investors and the communities we impact, directly and indirectly). Our environmental, social, and governance (ESG) management approach helps us to live up to this commitment. To ensure long-term business resilience, we seek to minimize negative environmental and social impacts, by actively managing our operations and engaging with our stakeholders.
Overall responsibilities
The Summit Power Limited Management bears overall responsibility for SPL's sustainability management. They oversee how we meet our sustainability expectations and integrate them into our strategy, our governance, and especially our operations. In short: into our corporate culture.
The Environmental Health Safety and Social (EHSS) and Sustainability function is responsible for developing and coordinating our sustainability activities. It also involves all levels of the organization in this effort, including employees, whose active involvement is essential for us to achieve a robust sustainability culture. Under the guidance of EHSS & Sustainability, our business units have a responsibility to implement annual EHSS & Sustainability Improvement Plans to help us meet our overall objectives for these areas.
Our material topics
At SPL we define specific topics, based on our 2018-19 materiality assessment. The materiality assessment analyzes the significance of our economic, environmental, and social impacts and of their influence on our stakeholders' assessments of, and decisions regarding, our company. We consider a combination of internal and external factors to assess whether a topic is material from the perspective of employees, senior managers, third parties, government and non-governmental organizations, industry partners, as well as current and potential institutional investors.
EHSS Identity and Policy Statement
signed by all members of the Management in November 2018-19. This statement provides the framework for developing Groupwide Sustainability Strategic Plans (SSPs) and defines our specific EHSS and Sustainability commitments.
EHSS is a core part of our SPL identity – we care about people and the environment.
The Policy Statement articulates our new EHSS identity, which is encapsulated in four declarations:
• "We only work safely"

• "We look after people's health"

• "We act with responsibility to reduce our environmental impact"

• "We protect our people and our assets"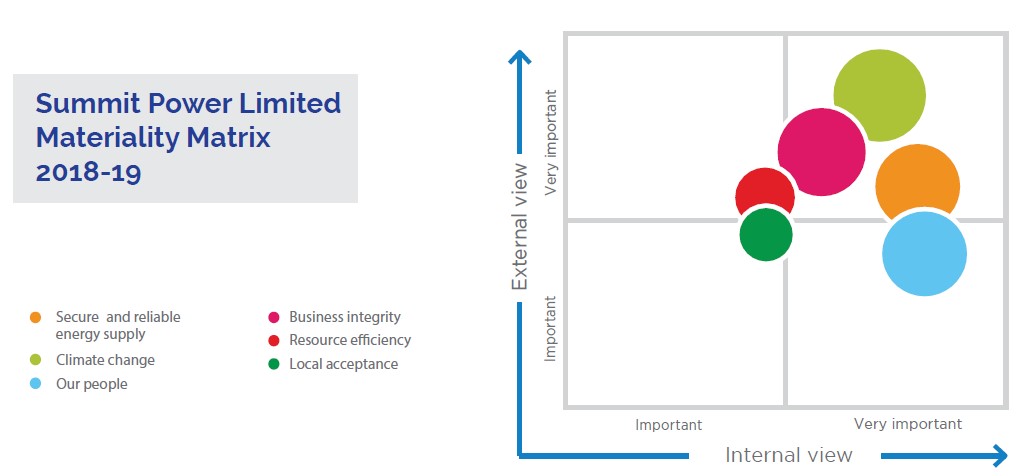 Summit Power Limited Sustainability Strategic Plans
Our Sustainability Strategic Plans (SSPs) describe how sustainability supports our business strategy and put in place commitments for our ESG topics and the selected UN Sustainable Development Goals (SDGs). Our SSP is built around a set of long-term commitments that reflect core elements of our corporate culture and business strategy. The SSP provides the framework for medium-term target-setting, annual progress reviews, and specific action plans.
UN Sustainable Development Goals
SPL supports the SDGs. To guide our actions, we aligned our material topics with relevant SDGs and used this as the basis for developing strategic commitments. The 17 SDGs were endorsed by the United Nations in September 2015. They encompass fundamental improvements in the living conditions of all people today and in future generations as well as the protection of the environment. We prioritized seven SDGs during our 2018-19 materiality assessment based on the nature of our business and its strategic development.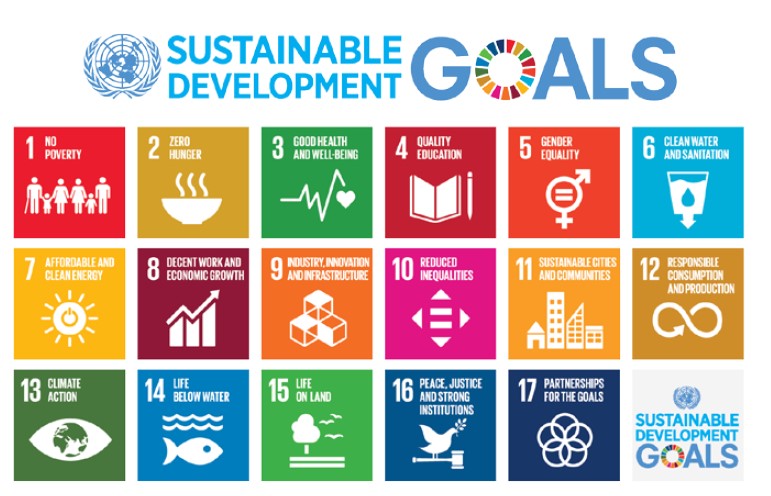 ENVIRONMENTAL, SOCIAL & GOVERNANCE