Summit Power Limited
INVESTOR RELATIONS
Back
Director's Report
The Managing Director of Summit Power Limited (SPL) Lt. Gen. (Retd.) Engr. Abdul Wadud reports on the Company on following topics for FY 2017-18:

     ● The Environment We Operate In
     ● The Sector We Operate In
     ● Business Activities Including Its Operating Performance
     ● Directors' Election & Re-Appointment
     ● Directors' Meeting & Attendance
     ● Directors' Responsibilities /Reporting Framework
     ● Remuneration Of Directors
     ● Audit Committee
     ● Auditors
     ● Corporate Governance
     ● Going Concern / Sustainability
     ● Human Resources Management
     ● Status Of Compliance
     ● Contribution To The National Exchequer & The Economy
     ● Corporate Social Responsibility (CSR)

Click on the PDF icon to read the full Director's Report.
---
THE ENVIRONMENT WE OPERATE IN
Global Socio-economic Environment
The FY 2019 was generally a slightly subdued world economic year with a growth of 3.1%. The significant economic events in the year were United States-China trade issue, United Kingdom and the European Union – Brexit and free trade area encompassing Canada, Mexico & United States. This sluggish growth is likely to motivate resolution of trade policy differences, development of accommodative monetary and multidimensional fiscal policy. All these may eventually end up with a reduced geopolitical tension, contributing to relatively stabilized world economic growth, which is projected to be 3.5% for FY 2020.
Bangladesh Socio-economic Environment
Bangladesh has undergone major socio-economic development in last few years, especially in rapid expansion of information technology, construction and manufacturing sector. These transformations have boosted Bangladesh from a low-income country to a lower-middle income country. The country has achieved the fastest growth in the Asia-Pacific economics comprised of 45 countries with a growth rate of 7.9% in FY 2019. The drivers of this growth have been identified as higher public investment, stronger consumption demand, revival in export, improved power supply and higher growth in private sector credit. The prediction of the economic growth for FY 2020 is 8%, which is still higher than all other countries in the Asia-Pacific region.
THE SECTOR WE OPERATE IN
The power sector has experienced an outstanding progress in last few years. In last year, 2,849 MW capacity has been added to the national grid, raising the total generation capacity to 22,051 MW. The table below provides a breakdown of the capacity generated by public and private sectors.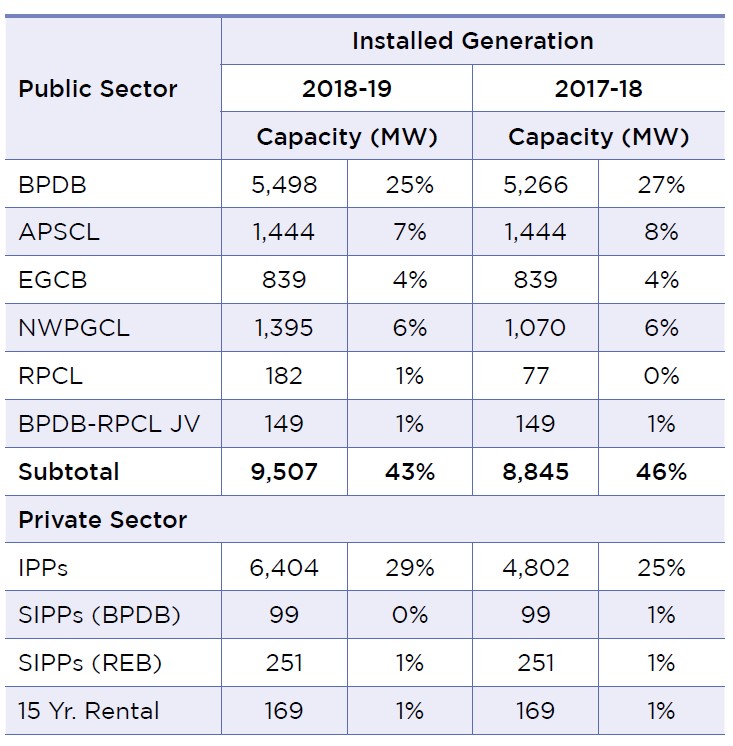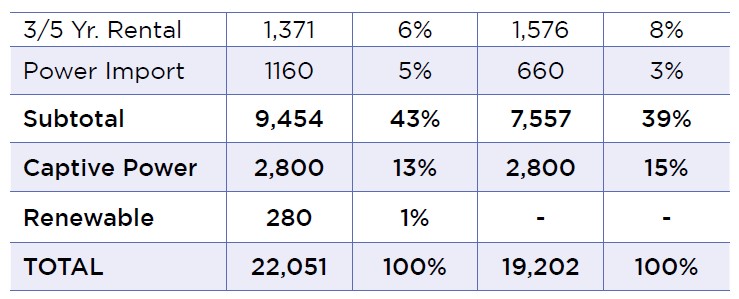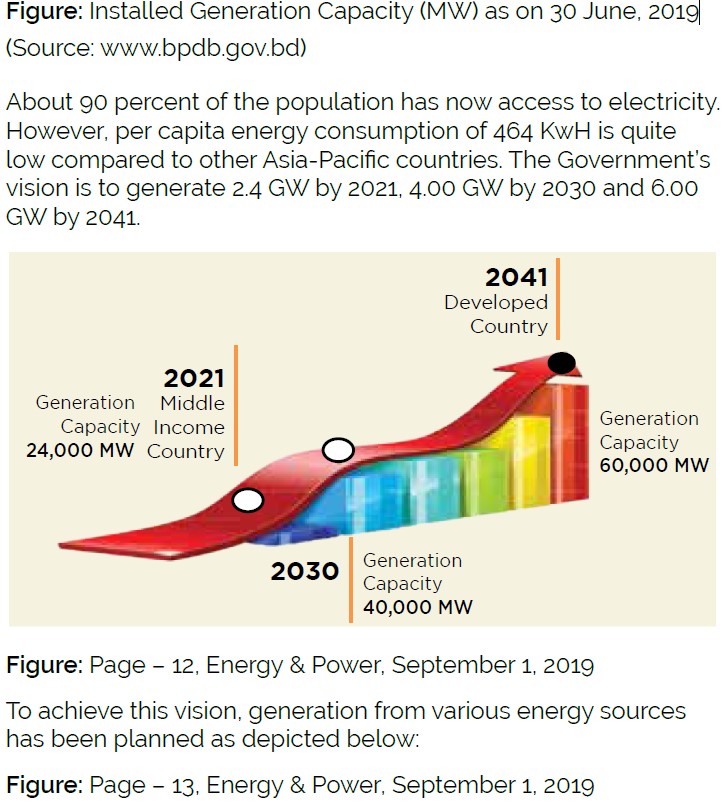 The FY 2018-19 has been a good year for Summit Power Limited (SPL). We are grateful that the Honorable Prime Minister Sheikh Hasina inaugurated Summit Gazipur II Power Limited (300 MW) and later in another ceremony inaugurated Ace Alliance Power Limited (149 MW).
Due to outstanding performance, this year one of your subsidiary companies achieved Best Private Power Generation Company Award by the Government of Bangladesh. The Company also received Silver Award at Asian Power Awards 2018 for Fast-Track Power Plant of the year.
All of your power plants undergo rigorous process of continual improvement and implementation of global best practices for operation, maintenance and accountability. An Integrated Management System (IMS), consisting of three standards, i.e. - ISO 9001: 2015 - Quality Management System (QMS), ISO 14001: 2015 - Environmental Management System (EMS) and BS 18001: 2007 Occupational Health and Safety Assessment System (OHSAS) is in place to ensure the motto of continual improvement.
Now SPL operates fifteen power plants of its own and another three plants with co-ownership. SPL holds 17.64% of ownership of Khulna Power Company Limited (KPCL) and 30% of Summit Meghnaghat Power Company Limited.
Due to goodwill of the Company, your company along with its subsidiaries are being financed by renowned local and foreign banks and financial institutions. International Finance Corporation (IFC), The Islamic Corporation for the Development of the Private Sector (ICD), The OPEC Fund for International Development (OFID), Deutsche Investitions- und Entwicklungsgesellschaft mbH (DEG), Nederlandse Financierings-Maatschappij Voor Ontwikkelingslanden N.V. (FMO) and Infrastructure Development Company Limited (IDCOL) are few Investors and Financiers of our group companies. The Company has also entered into Interest Rate Swap (IRS) deals with Brac Bank Limited and Eastern Bank Limited to protect interest rate volatility for loan of USD 145.72 million. World industry giants like GE of USA, Mitsubishi and JERA of Japan are interested for partnership with Summit Group.
Most of your power plants are operated on Build, Own and Operate (BOO) basis for an initial agreement term of 15 years. The tenure of Power Purchase Agreement (PPA) has been extended for additional 5 years on expiry of initial contract period of Summit Narayanganj Power Plant. Renewal process of 03 initial 11 MW power plants is still ongoing. Meanwhile, BREB has requested to continue operation till the renewal process is completed.
BUSINESS ACTIVITIES INCLUDING ITS OPERATING PERFORMANCE
Your Company, SPL along with its group Company is the largest private sector power generation company in Bangladesh. In 2000, SPL started its operation with 33 MW power plants and now after 19 years the Company contributes 976 MW to the national grid.
In the last few years, the plants which started operation before Commercial Operation Date (COD) are Summit Narayanganj
Power Plant I & II, Summit Barisal Power Plant, Ace Alliance Power Limited and Summit Gazipur II Power Plant. All the plants are consistently serving the national grid days and nights. This year SPL added 3,251 million KwH to the national grid compared to 2,759 million KwH in last year.
Although the overall revenue of SPL standalone is slightly lower, however due to the addition of operation of two power plants (Summit Gazipur II Power Limited and Ace Alliance Power Limited) the consolidated revenue has increased by 65% with an increase of 72% in cost of sales. Finance costs (net) has also increased by 64% due to addition of loan for implementing of the above stated two power projects. Provision for income tax has been made for renewed power plants after expiry of 15 years operation. A summary of financial performance of the Company is presented below: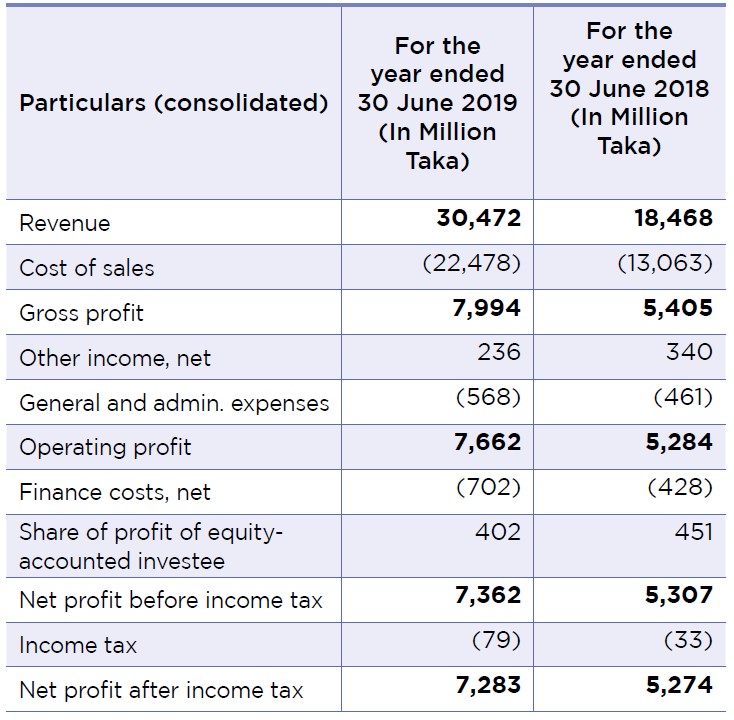 Additional operating and financial data and review have been presented in the Financial Highlights and Business Review sections of the Annual Report.
PROFIT APPROPRIATION
During the year 2018-19, the Company's net profit attributable to owners amounted to Tk. 5,105 million. Company's financial situation for the year ended 30 June 2019 for appropriation is as follows:

OTHER DISCLOSURES
Extra-ordinary gain or loss: As per IAS 1: No extra-ordinary gain or loss has been recognized in the financial statements.
Related Party Transaction: The related party transactions carried out by the Company on commercial basis during the year have been disclosed in the Notes - 43 to the financial statements.
Utilization of proceeds from public issues, rights issues and/ or through any other instrument: Initial Public Offering (IPO) of SPL was made in 2005 and the fund raised thereby has already been utilized as reported to the regulators. Fund raised through issuance of Rights Shares in 2008 has also been utilized and reported accordingly to the regulators. No further issue of any instrument was made during the year.
Significant variance between Quarterly and Annual Financial Statements: No significant variations have occurred between quarterly and final financial results of the Company during the year under report except for the first quarter when operation from two new power plants started with minimum operating costs.
Dividend: The Board recommends 35% cash dividend for the year ended on 30 June 2019. The cash dividend of 35% implies Tk. 3.50/- for each share held on the record date, subject to approval by the shareholders at the 22nd Annual General Meeting.
Interim Dividend: There was no declaration of Bonus Share/ Stock Dividend/ Cash Dividend for the year as interim Dividend.
RISK LANDSCAPE AND REMEDIAL MEASURES
Financial Risk Management
The Group has exposures to the following risks from its use of financial instruments:
∎ Credit risk

∎ Liquidity risk

∎ Market risk
The Board of Directors has overall responsibility for the establishment and oversight of the Company's/Group's risk management framework. The Board oversees how management monitors compliance with risk management policies and procedures, and reviews the adequacy of the risk management framework in relation to risks faced by the Company/Group. The Board is assisted in its oversight role by Audit Committee. Internal Audit, under the purview of Audit Committee, undertakes both regular and ad-hoc reviews of risk management controls and procedures, the results of which are reported to the Audit Committee.
Credit risk is the risk of financial loss to the Company/ Group if a customer or counterparty to a financial instrument fails to meet its contractual obligations, and arises principally from the Company/Group's receivable from customers and investment securities. The Group's sales are made to Government entity, viz. Bangladesh Rural Electrification Board (BREB) and Bangladesh Power Development Board (BPDB) under the conditions of the fixed term Power Purchase Agreement (PPA).
Liquidity risk is the risk that the Group will not be able to meet its financial obligations as they fall due. The Group's approach to managing liquidity is to ensure, as far as possible, that it will always have sufficient liquidity to meet its liabilities when due, under both normal and stressed conditions, without incurring unacceptable losses or risking damage to the Group's reputation. Typically, the Group ensures that it has sufficient cash and cash equivalent to meet expected operational expenses, including the servicing of financial obligation through preparation of the cash forecast, prepared based on time line of payment of the financial obligation and accordingly arrange for sufficient liquidity/fund to make the expected payment within due date. Moreover, the Group seeks to maintain short term lines of credit with scheduled commercial banks to ensure payment of obligations in the event that there is insufficient cash to make the required payment. The requirement is determined in advance through cash flow projections and credit lines facilities with banks are negotiated accordingly. It may be noted that the Group repaid its liabilities in financial year 2019 on due dates. Rest of the financial liabilities are expected to be repaid in due time which are expected to be financed from operational cash flow
Market risk is the risk that changes in market prices such as foreign exchange rates and interest rates will affect the Group's income or the value of its holding of financial instruments. The objective of market risk management is to manage and control market risk exposures within acceptable parameters, while optimizing the return.
The Group, except AAPL and SGIIPL, is exposed to currency risk on purchases of spare parts and capital machinery that are denominated in a currency other than the functional currency, primarily the USD and EURO. For AAPL and SGIIPL, foreign currency transactions are denominated mainly in Bangladesh Taka (BDT) and EURO. The Company/Group has not entered into any type of derivatives instrument in order to hedge foreign currency risk as at 30 June 2019.
Interest rate risk is the risk that arises due to changes in interest rates on borrowings. Local loans are not significantly affected by fluctuations in interest rates, as they are secured in fixed rates. Foreign loans and borrowings are affected by fluctuations in floating interest rates. The Group has entered into of derivative instruments in order to hedge interest rate risk as at the reporting date. The further details of financial risk management has been covered at section 38(B) of Audited Financials.
Capital Risk management
The Group's objectives when managing capital are to safeguard the Group's ability to continue as a going concern in order to provide returns to shareholders and benefits to other stakeholders and to maintain an optimal capital structure to reduce the cost of capital. The Board seeks to maintain a balance between the higher returns that might be possible with higher levels of borrowings and the advantages and security afforded by a sound capital position.
Business Risk Management
It has been observed, especially in FY 2018-19 that Bangladesh has sufficient supply of electricity compared to the demand and distribution capability, particularly in lean/ winter season. Hence, the Government might be less willing to extend Power Purchase Agreements (PPA) on expiry of agreement period. One of the PPAs of HFO based power plants, which will be expiring in 2021 may be under the risk of non-extension for further period. PPAs may be extended at reduced tariff under "No electricity, No payment" model, which should enable the Company to keep on operating as the plants will be less expensive for the boards and thus the risk might be mitigated.
DIRECTORS' ELECTION & RE-APPOINTMENT
As per Article 23(a) of the Articles of Association, Mrs. Anjuman Aziz Khan, Ms. Azeeza Aziz Khan, Mr. Helal Uddin Ahmed, Mr. Md. Arif Al Islam shall retire in the 22nd Annual General Meeting by rotation and being eligible, offer themselves for re-election.
Your Board in its Board Meeting held on 22 April 2019 appointed Mr. Junayed Ahmed Chowdhury as an Independent Director of the Board. His short bio-data has been presented in the "Profile of Our Directors" section. He will also retire in the 22nd Annual General Meeting and being eligible, offer himself for re-election.
DIRECTORS' MEETING & ATTENDANCE
During the Twelve months ended 30 June 2019, the Board of Directors held 4 (four) meetings. Directors who attended the Board meetings during their respective tenure are shown below: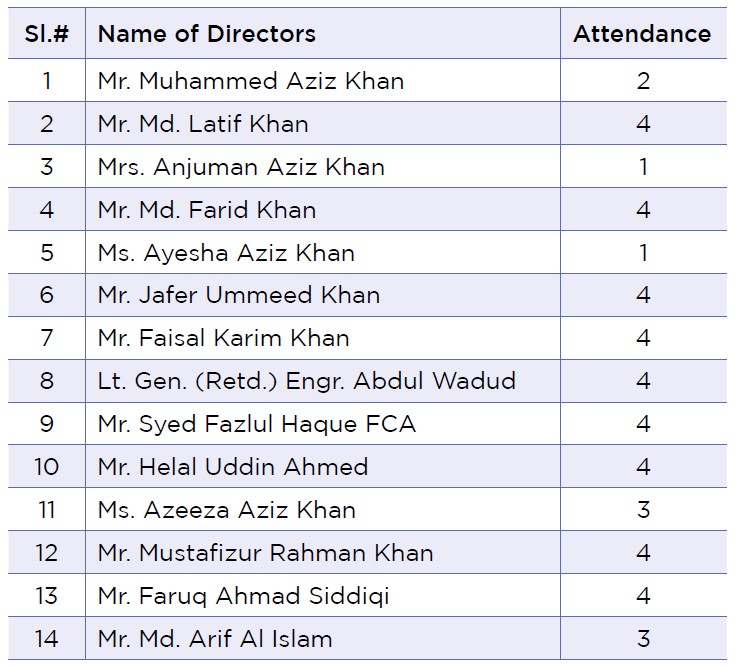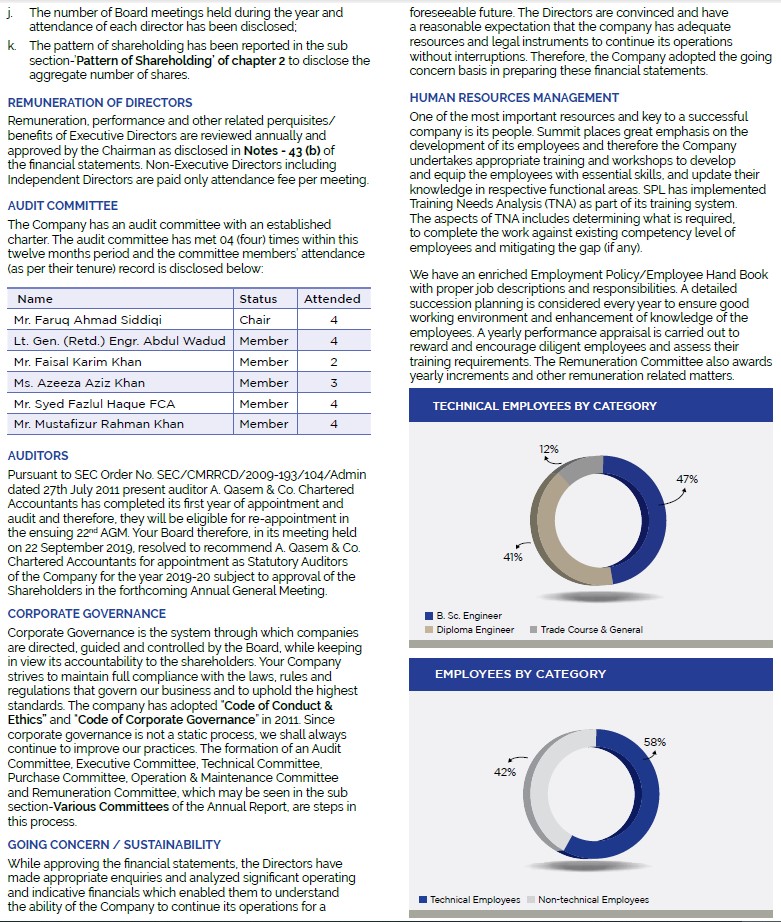 Since 2017, Summit Power Limited organised the Annual Recruitment Program. This year around 1,500 B.Sc. and Diploma Engineers from the Department of Electrical and Electronics Engineering and Mechanical Engineering appeared for the written test. The test was held at the Government Science School and College at Farmgate, Dhaka.
STATUS OF COMPLIANCE
In accordance with the requirement stipulated in condition no- 7.00 of the BSEC notification no-BSEC/CMRRCD/2006-158/207/ Admin/80 dated 03 June 2018 issued under section 2CC of the Ordinance 1969, the Corporate Governance Code Compliance Report is shown in the sub section-'Certificate on Corporate Governance' of chapter 3. A Certificate from MAK & Co. Chartered Accountants confirming compliance of conditions of Corporate Governance Code as stipulated under condition 7(i) is also annexed to this report as in the sub section-'Status of Compliance with the Corporate Governance Code (CGC)' of chapter 3. As the sole authority for adoption of relevant framework and standards for financial reporting in Bangladesh, The Institute of Chartered Accountants of Bangladesh (ICAB) has adopted International Financial Reporting Standards (IFRS) issued by the International Accounting Standards Board in its original version. While preparing its financial statements, SPL complies all the applicable standards of IFRS in the sub section-'Compliance Report on IFRS' of chapter 3 as adopted by ICAB.
CONTRIBUTION TO THE NATIONAL EXCHEQUER & THE ECONOMY
Electricity is one of the main driving forces of the economy, which has diversified use and multiplier effect on the economy. This year your Company has added 3,251 million KwH of electricity to the national grid. This addition has contributed significantly in enhancing industrial productions and providing more job opportunities throughout the country. As a shareholder, you can be proud of your Company's contribution to Bangladesh. In addition, the Company has contributed Tk. 469,627,409 to the national exchequer. The detail is available at Contribution to the National Exchequer & Economy section.
CORPORATE SOCIAL RESPONSIBILITY (CSR)
Our community involvement focuses on the following key areas are described in 'Corporate Social Responsibility (CSR) Report' of chapter 3.
Education – empowering people of all ages with knowledge and skills
Social and Community Services – promoting well-being of humanity
Sports – bringing communities together and encouraging healthy living
Arts and Culture – supporting cultural projects for social development
ACKNOWLEDGEMENT
The Directors would like to extend special thanks to the members of the public, who have placed their confidence on the Company by purchasing shares and supporting the activities of the Company. Without the support of its shareholders, the Company could not have attained what it has achieved today.
Your Directors would like to put on record its deep appreciation of the efforts made by the employees of the Company. Their commitment and passion, both individually and collectively has helped SPL achieve the success that it has today. The Board also recognizes and appreciates the critical support provided by the families of the employees, which enables them to focus on their work in SPL.
The trust and confidence that our valued customers, BPDB, BREB and its members in Palli Bidyut Samitees (PBSs) have placed upon SPL are our main driving force. We accept this trust in all humility and shall continue to strive to live up to the expectations. The Board also expresses its heartfelt appreciation and gratitude to the Power Division, MPEMR, Government of Bangladesh as well as Bangladesh Petroleum Corporation, Jamuna Oil Company Limited, Padma Oil Company Limited, Chittagong Port Authority, National Board of Revenue, Bangladesh Investment Development Authority, Department of Environment, the Deputy Commissioners, the Superintendents of Police, the local administration and the people of the locality for extending their support towards the Company. The Board also extends its best wishes to the contractors and consultants who helped us in running power plants and achieve this growth. We gratefully recognize the lenders from home and abroad for the trust and honor vested in our Company and express our special thanks for a sustainable better future.
The Board would also like to express its humble gratitude to all the stakeholders including the investors, suppliers, banks & financial institutions, insurance companies, service providers, BSEC, Registrar of Bangladesh Joint Stock Companies & Firms, Dhaka Stock Exchange Limited, Chittagong Stock Exchange Limited, the Central Depository Bangladesh Limited, various Government authorities and lastly the individuals and agencies who have helped us to accomplish what we have accomplished so far. Best regards to all the shareholders. May you all have healthy, peaceful and progressive life.
Thank you very much.
On behalf of the Board
Lt Gen (Retd) Engr. Abdul Wadud
Managing Director
Dhaka, 21 October 2018